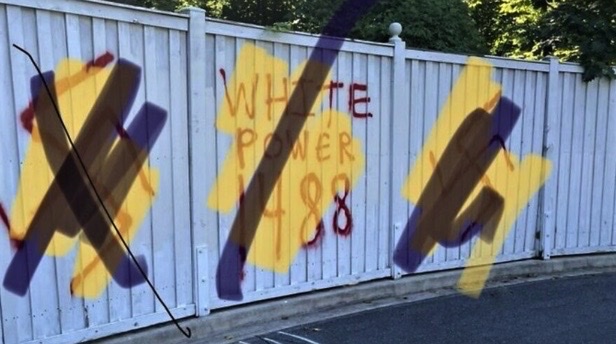 Antisemitism
In The News
White-supremacist graffiti discovered in suburban Washington, DC
Anti-Semitic graffiti was found spray-painted over the weekend on a fence at a trolley trail in Montgomery County, Md., just outside of the nation's capital.
"Hate has no place in our community," tweeted State Delegate Ariana Kelly (D-District 16), who posted an image of the graffiti on Sunday. "I have heard from a number of constituents this a.m. about white-nationalist vandalism along the Bethesda Trolley Trail."
Kelly's photo, which she "modified" to make it harder to see the hateful imagery, showed swastikas along with the numbers "1488" and "88" painted on white fencing at the Bethesda Trolley Trail.
"What is '1488'? Fourteen words, 'We much secure the existence of our people and a future for white children,' " the group tweeted. "88, H is the 8th letter of the alphabet," and it stands for "Heil Hitler."
Read More: JNS