Policy Accomplishments
In cooperation with our sister organization the CUFI Action Fund, a nonprofit 501(c)(4), nonpartisan organization, we have accomplished much for Zion's sake in recent years.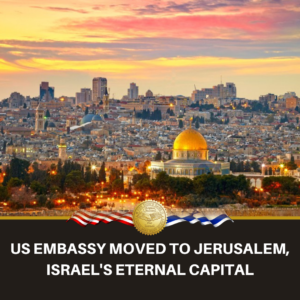 President Trump kept his promise to open the US Embassy in Jerusalem after more than 135,000 CUFI members emailed the White House.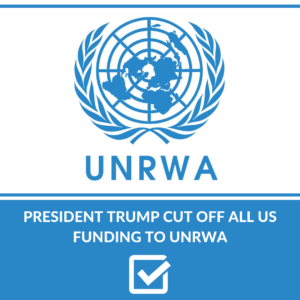 President Trump cut off all US funding to UNRWA after CUFI began working with elected officials to end UNRWA's anti-Israel influence in the Middle East.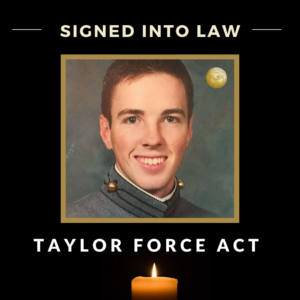 CUFI members sent over one million emails to Congress to pass the Taylor Force Act which cuts off US aid to the Palestinian Authority until the end their "Pay to Slay" incentivization of terrorism.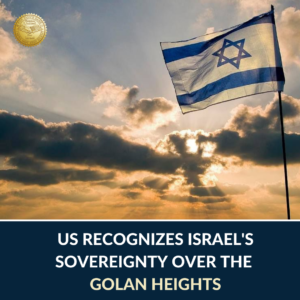 CUFI fought for and won United States recognition of Israeli sovereignty over the Golan Heights.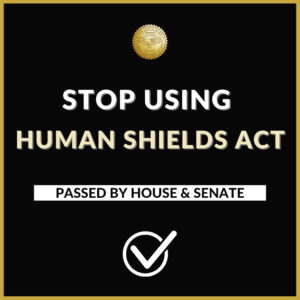 The Stop Using Human Shields Act was introduced during the 2018 CUFI Washington Summit and was passed by both the Senate and House.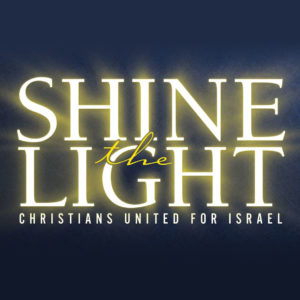 CUFI is combating antisemitism with over two million CUFI members participating in our Shine the Light campaign—and counting!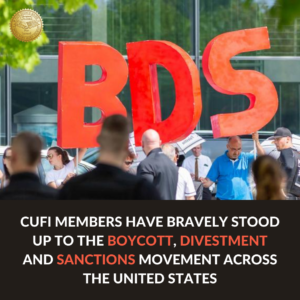 CUFI has defeated BDS in several states by advancing anti-BDS measures. To date, 34 states have taken action to ensure taxpayer dollars do no subsidize economic warfare against the Jewish state.
CUFI worked to curb Turkey's brazen malevolence through the advancement of the Eastern Mediterranean Security and Energy Partnership Act, one of CUFI's top policy priorities at our 2019 Summit.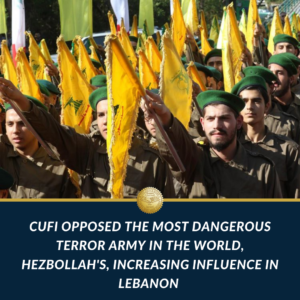 CUFI opposed Hezbollah's increasing influence in Lebanon by advancing legislation to condition aid and increase reporting requirements for the Lebanese Armed Forces as to Hezbollah's influence. The Defense Department is now required to report on Lebanon's compliance.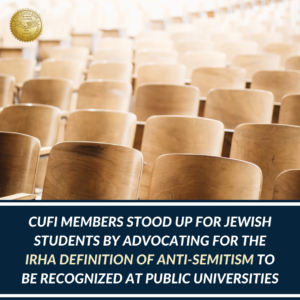 CUFI protected Jewish students on college campuses through our support of President Trump's executive order mandating the IRHA's definition of antisemitism as US policy.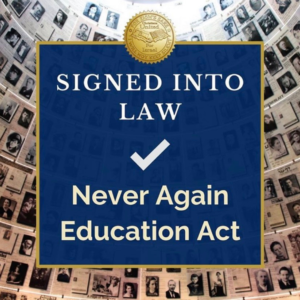 CUFI worked to see the Never Again Education Act passed through the House and Senate which will ensure students are thoroughly educated on the evils of antisemitism so the growth of this hatred is never enabled again.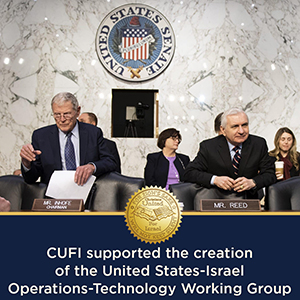 CUFI supported the creation of the United States-Israel Operations-Technology Working Group advancing cutting edge cooperation to benefit American and Israeli warfighters.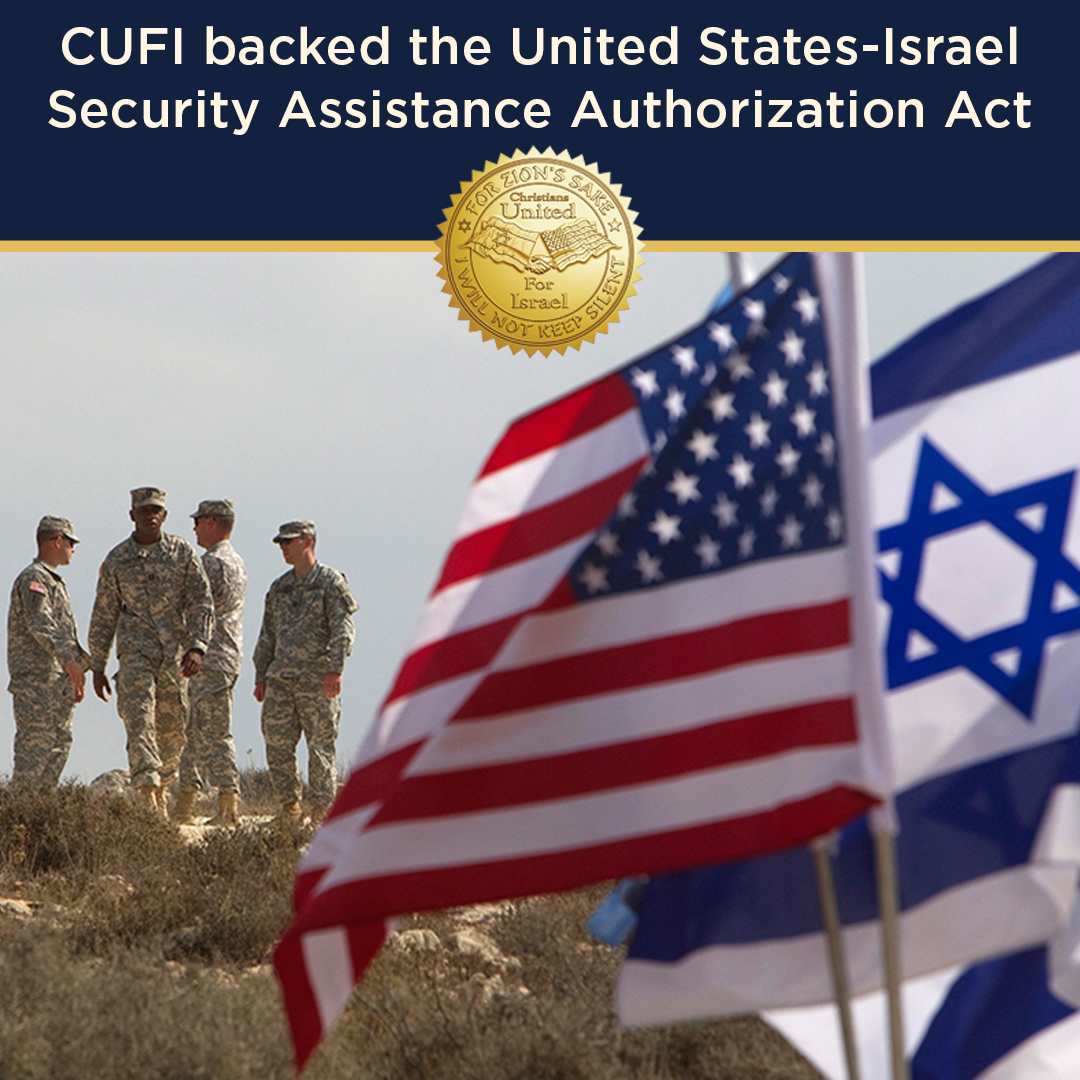 CUFI backed the United States-Israel Security Assistance Authorization Act, ensuring military support for Israel was enshrined in law for years to come.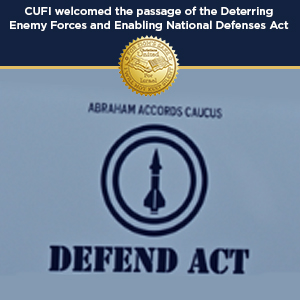 In late 2022, CUFI welcomed the passage of the Deterring Enemy Forces and Enabling National Defenses Act, a top CUFI Washington Summit legislative agenda item.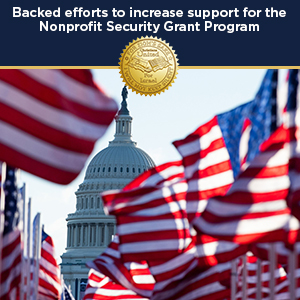 CUFI has consistently backed efforts to increase support for the Nonprofit Security Grant Program and achieved this goal in December of 2022.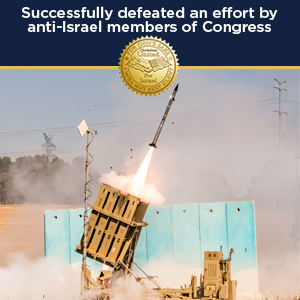 In early 2022, CUFI and allied organizations successfully defeated an effort by anti-Israel members of Congress to block the U.S. from resupplying Israel's purely defensive Iron Dome missile system.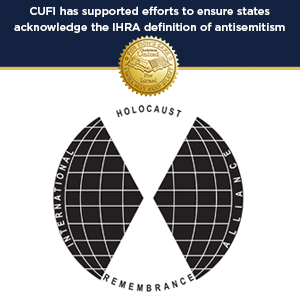 Following success at the federal level, CUFI has supported efforts to ensure states acknowledge the IHRA definition of antisemitism. Since CUFI engaged on this issue, a majority have states have acknowledged the definition.