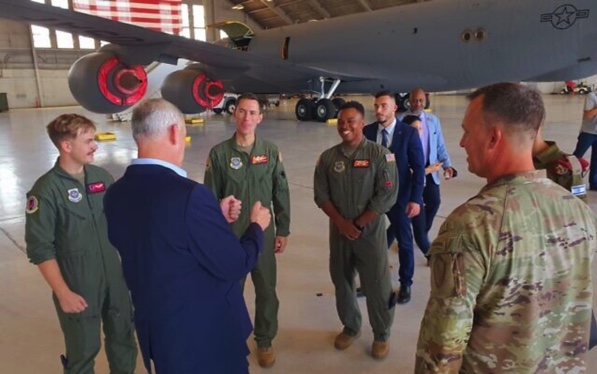 In The News
Visiting US, Gantz emphasizes Israel-US cooperation 'in face of Iran's aggression'
Defense Minister Benny Gantz said Israel and the US will "continue to expand cooperation in the face of Iran's aggression," during his visit to the US Central Command headquarters at MacDill Air Force Base in Tampa, Florida, on Thursday.
Gantz made his comments while touring the air refueling wing of the base alongside US Central Command chief General Michael Kurilla. It was the first visit of an Israeli defense minister to CENTCOM HQ.
Gantz and Kurilla discussed increasing joint exercises and cooperation on land, at sea and in the air, as well as in cybersecurity and intelligence, according to a statement issued by the Defense Ministry.
"I'd like to thank General Kurilla for having me," Gantz said. "Israel's cooperation with CENTCOM and regional countries is a game changer in our ability to maintain security, stability and peace in the Middle East, especially when facing Iran and its proxies," he added.
"We will continue to deepen our cooperation, expand the actions required to target Iranian proxies and ensure Iran never obtains a nuclear weapon. We all understand the need to make sure Iran never has a nuclear umbrella under which it can spread terrorism and threaten the world and the Middle East," Gantz said.
Read More: Times of Israel