US-Israel Relationship
US pilots reunite with Israeli 'brothers in arms' from Yom Kippur War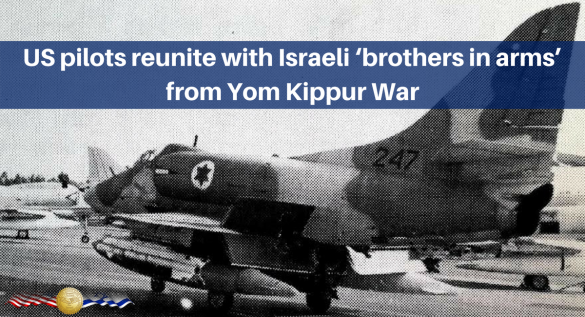 TEL AVIV (JTA) – The arrival of US fighter jets in Israel, as part of a month-long arms drop, was critical to turning the tide of the Yom Kippur War in favor of the Jewish state.
But for the American pilots who volunteered to deliver the aircraft, it was just another mission. Alan Chesterman, part of a US Navy squadron that flew a handful of the jets, said he had little knowledge of Israel or its security situation when he landed here in October 1973.
"We knew we were flying into a combat zone, but we didn't know anything about it," he said. "It was more like I'm young, adventurous and fearless – you might say young and stupid. I just lived to fly."
Chesterman, 72, was one of two pilots who this week reunited with some of the Israelis to whom they handed the Douglas A-4 Skyhawks. Along with nine other American pilots and their wives, they took a VIP tour of Israel to see what has become of the country since they helped to fend off the surprise onslaught by its Arab neighbors 44 years ago.
The Americans landed at Ben-Gurion Airport Saturday on commercial flights, and have since been traveling around the country and receiving briefings from top military officials. They visited the Tel Nof airbase Wednesday, where they exchanged war stories with more than a dozen Israeli pilots who flew the American Skyhawks and recreated a photograph several of them, including retired US fighter pilot Roy "Bubba" Segars, 76, and former Israeli airman Jacob "Booby" Daube, had taken together during the war.
On Thursday, the American pilots attended a flight course completion ceremony at the Hatzerim Air Force base, where they saw Israel's Prime Minister Benjamin Netanyahu and President Reuven Rivlin speak.
Rami Lothan, 65, an Israeli Air Force pilot who greeted the Americans in 1973 and flew one of the Skyhawks in the war, participated in a flight show at the event, flying a propeller-driven training plane. He helped organize and host the trip after meeting members of the group at flight shows in the United States.
Read More: Times of Israel