Iran
New satellite photos show Iran establishing another base in Syria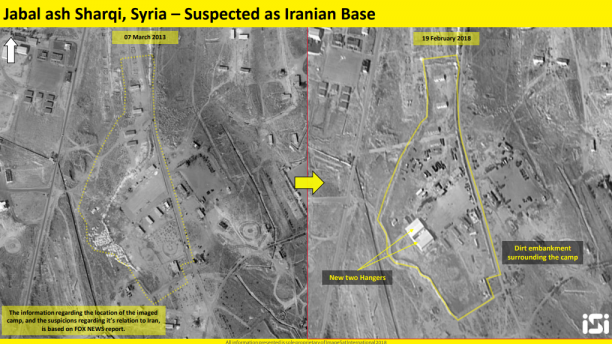 Iran has built another permanent military base outside Syria's capital city complete with hangers used to store missiles capable of hitting all of Israel, according to Western intelligence sources.
Exclusive satellite images from ImageSat International obtained by Fox News show what is believed to be the new Iranian base, eight miles northwest of Damascus, operated by the Quds Force — the special operations arm of Tehran's Islamic Revolutionary Guard Corps (IRGC).  The photos show two new white hangars, each roughly 30 yards by 20 yards, used to store short- and medium-range missiles.
On Capitol Hill Tuesday, the top U.S. military commander for American forces in the Middle East said Iran was "increasing" the number and "quality" of its ballistic missiles it was deploying to the region — when asked during a House Armed Services Committee hearing by Rep. Liz Cheney, R-Wyo., about reports Iran had moved more missiles into Syria.
Gen. Joseph L. Votel, head of U.S. Central Command, said Iran has "enhanced" its funding to proxy forces in the Middle East since the landmark nuclear agreement in July 2015, including sending missiles, fighters and other arms to Yemen and Syria.
First responders work to save civilians attacked by their own government with little equipment, aid or reprieve from years of war; Rich Edson reports from the State Department.
But when asked by Cheney what the U.S. military's role against Iran in Syria should be, Votel replied, "Countering Iran is not one of the coalition's missions in Syria."  The focus of the roughly 2,000 U.S. troops on the ground in Syria remains the destruction of ISIS and prevention of the terror group from rising up again, Votel said.
Votel said in the past five years Iran successfully had created a proxy network in Yemen similar to what it took them 20 years to create in Lebanon with Hezbollah.
A base similar to the one revealed in these new satellite photos was built last year south of Damascus, before being destroyed in December by Israeli surface-to-surface missiles.
Israeli Prime Minister Benjamin Netanyahu warned Tehran a month prior to the strike against building any military bases in Syria.  "Israel will not let that happen," he said.
Votel's remarks to Congress come amid criticism from the White House of Russia and Iran's continued support for Syrian President Bashar al-Assad, and the regime's ferocious bombing campaign in Eastern Ghouta, a suburb of Damascus where 400,000 civilians remain trapped.
Read More: Fox News