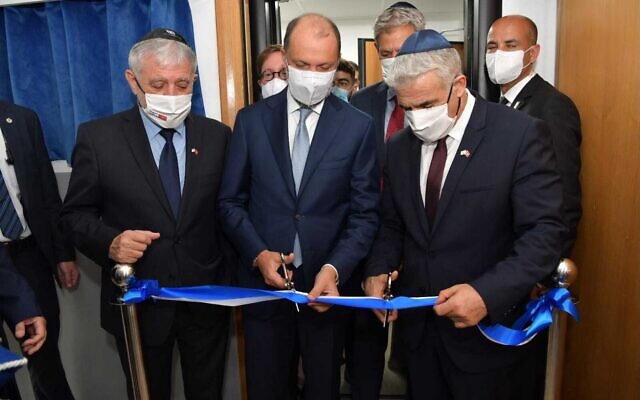 Lapid inaugurates Israeli mission in Morocco as Herzog invites king to visit
At a small ceremony limited by COVID-19 restrictions, Foreign Minister Yair Lapid inaugurated Israel's Liaison Office in Morocco's capital Thursday morning, following last year's agreement to reestablish ties after two decades.
Lapid was joined by Welfare Minister Meir Cohen, Knesset Foreign Affairs and Defense Committee head Ram Ben Barak and Charge D'affaires David Govrin.
Morocco was represented at the ceremony by deputy foreign minister Mohcine Jazouli, with the country's top diplomat Nasser Bourita not present.
Israeli diplomatic sources told The Times of Israel that Bourita's absence should not be seen as a snub, but rather an attempt to show that relations with Israel are routine and normal and do not demand high-level representation at every ceremony.
Read More: Times of Israel