Hamas
Israel Highlights Armed Assaults by Palestinian Terror Groups During Gaza Border Protest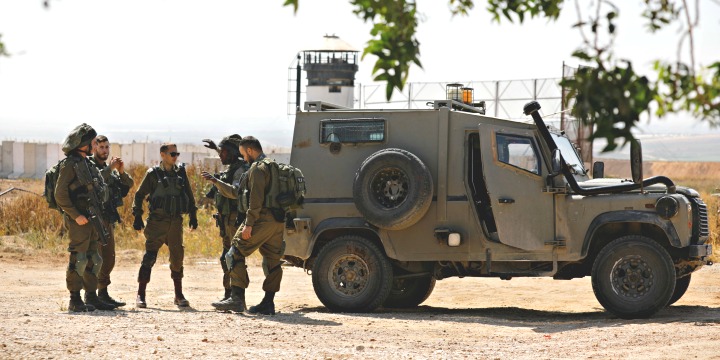 Israel has continued to push back firmly against Palestinian claims that the IDF used excessive force after a protest march on the Gaza-Israel border last Friday turned violent, stressing that terrorist groups had deliberately provoked a confrontation.
On Monday, the Palestinian Health Ministry claimed that the death of a 29-year-old demonstrator raised the Palestinian toll to 18 killed and more than 700 wounded. Israel has pointed out that at least ten of those killed were members of terrorist groups.
Eight of the dead men belonged to Hamas — the Islamist faction that has ruled in Gaza since 2007 — while the other two belonged respectively to the Al-Aqsa Martyrs Brigade, affiliated with Palestinian Authority President Mahmoud Abbas' Fatah movement, and the Palestinian branch of Islamic Jihad.
Hundreds of Palestinians — a fraction of the tens of thousands who initially turned out for Friday's protest — remained in tent encampments along the fenced 65-km (40-mile) border over the weekend.
Organizers of the so-called "March of Return" said they expected Gaza Palestinians to again gather in large numbers at the border fence with Israel on Friday. The goal of the protest is to secure the "return" to Israel of the descendants of the 750,000 Arab refugees of the 1948 War of Independence.
UN  Secretary-General Antonio Guterres and the European Union's top diplomat, Federica Mogherini, have called for an independent investigation into Friday's violence.
Avigdor Lieberman, the Israeli defense minister, rejected criticism of Israel's actions, saying soldiers along the Gaza frontier "deserve a medal" and did what was necessary to protect the border.
"As for a commission of inquiry — there won't be one," he told Israeli Army Radioon Sunday.
The United States blocked a Kuwait-drafted UN Security Council statement on Saturday that would have called for an independent investigation and urged "restraint" by all sides.
Meanwhile, Israel's United Nations envoy lodged an official complaint with the Security Council for holding an emergency session on the situation in Gaza on the first night of the Jewish holiday of Passover.
"The State of Kuwait, with full knowledge that our Permanent Mission, Israel, and Jews everywhere were observing the first night of Passover, hijacked the consultations, forced an open session and invited the Palestinian delegation to present remarks that they had been advised to prepare well in advance," Ambassador Danny Danon said in a statement.
Read More: Algemeiner