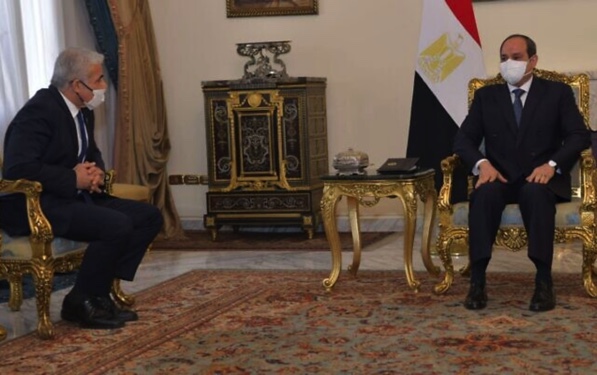 In The News
In Egypt, Lapid and Sissi discuss Iran nuclear threat, Hamas
Foreign Minister Yair Lapid met on Thursday with Egypt's President Abdel-Fattah el-Sissi in Cairo, where the two discussed the Iranian threat, and Israel's attempts to reach an agreement with the Hamas terror group in Gaza.
On Iran, Lapid and Sissi spoke about Tehran's nuclear program and the threat to regional stability posed by its support for armed proxy groups, according to the Foreign Ministry.
Lapid also presented his vision for Gaza, which would offer economic incentives in return for an end to Hamas attacks, and discussed the issue of the Israeli civilians and the remains of two Israeli soldiers being held in the Strip.
The Foreign Minister originallyannounced his two-stage plan for Gaza in September. The first stage would entail rehabilitating infrastructure in the Strip in exchange for tight international oversight — as well as quiet from Hamas. In the second stage of Lapid's plan, the two sides would see the realization of more ambitious projects. An artificial island would be built off the coast of the enclave — a long-proposed plan to see a port built in Gaza — and the West Bank and Gaza would be linked by infrastructure projects.
Sissi hosted Lapid at the Al-Ittihadiya Palace in the Heliopolis neighborhood of Cairo, the official office of Egypt's president.
Read More: Times of Israel