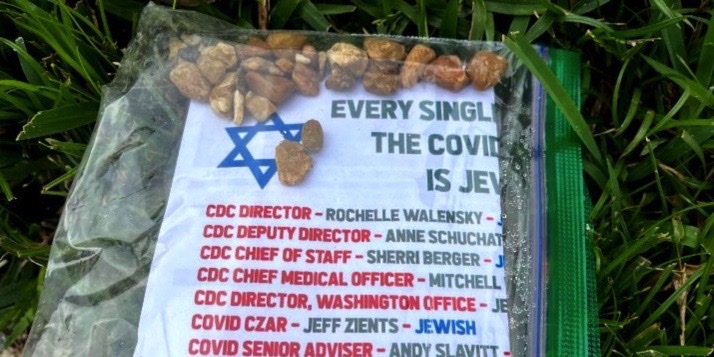 In The News
Antisemitic Flyers Blaming Jews for COVID Policies Found in Florida, California in Latest Series of Incidents
In the latest in a series of similar incidents, antisemitic flyers related to the COVID-19 pandemic have been distributed in Florida and California.
In both cases, the flyers espoused conspiracy theories holding Jews responsible for pandemic measures, and were weighted down in plastic bags with either rice or rocks — the modus operandi in previous such campaigns over the past year.
"This morning hundreds of homes in our community found plastic bags outside their homes filled with a hateful antisemitic flyer and small pebbles," Miami Beach Mayor Dan Gelber tweeted Sunday. "As a precaution we've increased patrols in our neighborhoods and and at religious institutions."
He called on residents who had received flyers and those who may have captured relevant images on surveillance cameras to contact the Miami Beach Police Department, which said it was investigating the incident.
"There is no place for this in our community and we will do all we can to make that point clear," Gelber said.
Flyers were also found in Surfside, a heavily Jewish neighborhood in the Miami area, local outlet 7News reported.
One Miami Beach resident commented, "Now I have more fear in my heart, and I'm distrustful of more people."
Those who sent the flyers, they told the network, are "accomplishing their mission."
Read More: The Algemeiner