Israeli Society
Mexico says it will henceforth vote with Israel in international bodies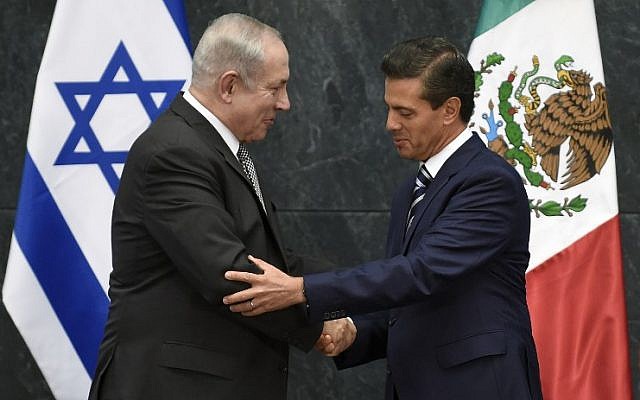 RIO DE JANEIRO — Israeli Prime Minister Benjamin Netanyahu tweeted a message of gratitude to Mexico following its announcement that it would not vote against the Jewish state in upcoming votes at the United Nations.
"Thank you President of Mexico @EPN and Secretary of Foreign Affairs Videgaray for refusing to go along with one sided anti-Israel resolutions at the UN. Deeply value your friendship," Netanyahu tweeted last week. The tweet included emojis of the Israeli and Mexican flags. EPN stands for Enrique Pena Neito, Mexico's president.
Mexican Foreign Minister Luis Figari contacted Israeli Ambassador to Mexico Yoni Pelad and told him of the shift in strategy for upcoming voting related to the Israeli-Palestinian conflict, Israel's Yedioth Ahronoth newspaper reported.
The declaration was made two months after Netanyahu visited Mexico during a trip to Latin America that also included Argentina and Colombia.
In mid-September, Prime Minister Benjamin Netanyahu became the first sitting Israeli prime minister to visit countries in Latin America. He met with Mexican President Enrique Pena Nieto in Mexico City and signed several agreements that bolster the ties and cooperation between the two countries.
The relationship between the nations had been strained earlier this year by a tweet in which Netanyahu seemed to praise US President Donald Trump's plans to build a wall on the Mexican border. Israeli President Reuven Rivlin later issued a statement apologizing for any misunderstanding.
In October, Mexico's former UNESCO ambassador, who was fired last year for walking out of a vote on an anti-Israel resolution effectively denying Jewish ties to Jerusalem, was honored in Los Angeles.
Read More: Times of Israel