Israeli Society
Year 5780: World leaders wish Jews a happy new year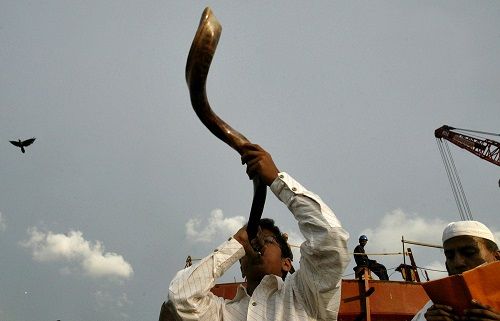 An Indian Jew blows a 'Shofar', a musical instrument used in Jewish religious ceremonies made from the horn of a Ram during the 'Tashlikh' ceremony during Rosh Hashanah, the two-day Jewish New Year that began Wednesday at sunset, at a dockyard in Mumbai, India, Thursday, Sept. 13, 2007. The 'Tashlikh' ceremony is a long-standing Jewish practice performed on the afternoon of Rosh Hashanah, where the previous year's sins are symbolically cast off by throwing pieces of bread, or a similar food item, into a large, natural body of flowing water. Judaism was one of the earliest religions to arrive in India and about 6,000 Jews still remain, most of them in Mumbai and nearby Thane. (AP Photo/Gautam Singh)
'Happy New Year to our Jewish compatriots,' wished the Iranian foreign ministry
US President Donald Trump, Russia's President Vladimir Putin and Iranian Foreign Minister Javad Zarif were among those to wish Jews worldwide a happy new year on Sunday.
"Wishing a Happy New Year to all those celebrating Rosh Hashanah in America, Israel and around the world," President Trump wrote on Twitter.
Russian President Vladimir Putin marked the occasion by meeting the country's chief rabbi, Berel Lazar, and Federation of Jewish Communities chief Alexander Boroda.
"I congratulate you on the New Year…This ancient holiday symbolizes humankind's aspiration to spiritual cleansing and self improvement, encouraging them to purity of thoughts and deeds," Putin wrote in a statement.
Iran's Foreign Ministry also wished Jews "peace and harmony" over the holiday.
"Happy New Year to our Jewish compatriots and to all true followers of great prophet Moses," Abbas Mousavi, the Iranian ministry spokesman, wrote on his Twitter account in both Hebrew and Farsi.
Iran is home to some 8,500 Jews, according to the Jewish Agency. Thousands left the country following the Islamic Revolution in 1979.
Former US Vice President and Democratic 2020 Presidential candidate Joe Biden offered blessings to the Jews celebrating the holiday, noting "this time of year offers a moment to pause and reflect on all that has passed."
"This last year was marked by horrific tragedies, but it was defined by the strength and resilience of the Jewish community," Biden said in a statement. "In the wake of Pittsburgh and Poway–Jewish and non-Jewish alike– challenged ourselves to reach for our highest ideals and recommit to fighting hatred wherever in the world we find it."
Read more: i24 News