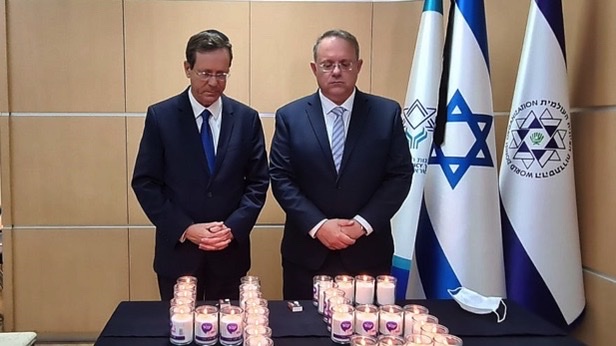 In The News
WZO chairman calls for Israel Memorial Day recognition for global victims of anti-Semitic terror
The chairman of the World Zionist Organization has sent Israel's prime minister a letter requesting official Israeli Memorial Day recognition of the victims of anti-Semitic attacks outside the Jewish state, according to a statement from WZO.
Israel's Memorial Day for Fallen Soldiers and Victims of Terrorism began on Tuesday and will end on Wednesday evening.
"The State of Israel has not yet learned to recognize Jews abroad who were killed in terrorist attacks against them," read the letter, which noted that according Jewish Agency figures, some 200 Jews have been killed in overseas anti-Semitic attacks around the world since 1948.
"Since the beginning of the year, there has been a sharp increase of about 30 percent in anti-Semitic incidents in the Diaspora," wrote Yaakov Hagoel, who is also the acting chairman of the Jewish Agency.
"On this day the current sequence of life stops and Israel remembers its best sons and daughters who were murdered only because they were members of the Jewish people, but precisely on this day that symbolizes more than anything the unity of the Jewish people—the place of an integral part of our nation seems to be forgotten. These are our brothers and sisters with whom Jewry has been marching forever—and from time to time we also hear that our brethren overseas are the targets of terrorist organizations and anti-Semitic attacks around the world," the letter continued.
Read More: JNS