Hamas
Wounded Poway Rabbi at White House: I Will Teach Others to Be 'Mighty and Tall'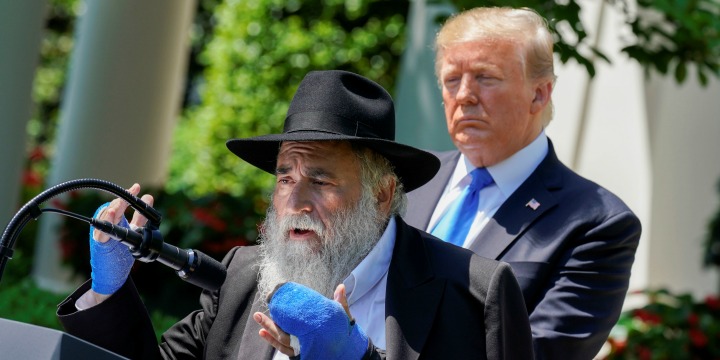 Rabbi Yisroel Goldstein — who was wounded in last Saturday's deadly shooting attack at synagogue near San Diego — spoke on Thursday at a National Day of Prayer event in Washington, DC.
"Just five days ago, Saturday morning, I faced evil and … darkness … right in our own house of worship, right at Chabad of Poway," Goldstein said in the White House's Rose Garden with President Donald Trump looking on. "I faced [the killer] and I had to make a decision. Do I run and hide or do I stand tall and fight and protect all those who are there? We cannot control what others do, but we can control how we react."
"My dear rebbe, Rabbi Menachem Mendel Schneerson, taught me, that the way we react to darkness is with light," he continued. "It was that moment that I made a decision, no matter what happens to me, I'm going to save as many people as possible. I should have been dead. The Rebbe taught me that as a Jew, you are a soldier of G‑d, you need to stand tall and stand fast do what it takes to change the world."
"My life has changed forever, but it changed so that I can make change, and that I can teach others to be mighty and tall," Goldstein declared.
Read More: The Algemeiner