US-Israel Relationship
World's largest warship docks at Haifa
The Nimitz-class aircraft supercarrier left its homeport of Norfolk, Virginia on January 21 and has been in the region since February as a base for airstrikes against the Islamic State group. It operates mainly in the Persian Gulf.
Commissioned in 2009, the 333m-long nuclear-powered ship can carry a crew of over 5,000 people, as well as around 90 fighter jets and helicopters. It is considered the world's largest aircraft carrier and largest warship overall.
Due to its size the ship is unable to enter the port itself, and dropped anchor four kilometers from the harbor.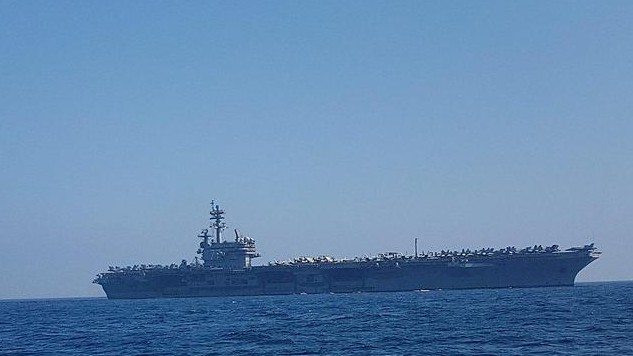 The USS George H.W. Bush off the coast of Haifa, July 1, 2017 (Momi Gabay/Haifa Port Authority)
Channel 2 news said Israeli and American officials have not given details on the nature of the visit.
It noted, however, that the Israeli and US navies cooperate closely and have held numerous joint military exercises.
According to Channel 10, the crew of the George H.W. Bush will tour Israel in the coming days and celebrate American Independence Day in the Jewish state on July 4.
The aircraft carrier USS George H.W. Bush is seen moored in the Mediterranean Sea off the Israeli port of Haifa on July 1, 2017. (AFP PHOTO / JACK GUEZ)
Prime Minister Benjamin Netanyahu and Defense Minister Avigdor Liberman will visit the ship on Monday, along with Haifa Mayor Yona Yahav.
The ship will then depart on Wednesday to continue its operations.
Read More: Times of Israel