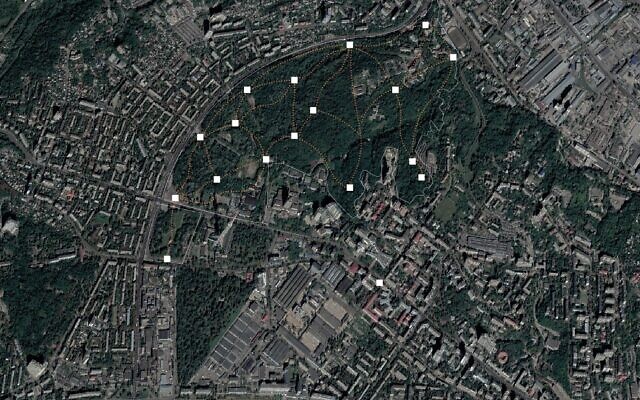 In The News
World's Largest Holocaust Memorial Planned For Ukraine's Babyn Yar Ravine
01/21/2021
Reversing plans to build one central museum at the site of the Holocaust's largest open-air massacre, the Babyn Yar Holocaust Memorial Center (BYHMC) announced plans on January 21 to construct 12 buildings across 370-acres of the filled-in Kyiv ravine where over 100,000 people were slaughtered during World War II.
On September 29 and 30, 1941, German Nazis and Ukrainian collaborators murdered 33,771 Jews at "Grandmother's Ravine" on the edge of Ukraine's capital. An additional 70,000 people were murdered at Babyn Yar during the next three years, including Jews, Ukrainian resisters, Roma, and disabled people.
"Currently, there are far too many people unaware of the nature of the place," BYHMC artistic director Ilya Khrzhanovsky told The Times of Israel. "If you visit Babyn Yar today, you will see families relaxing and playing as if it were a regular park."
Referring to Babyn Yar as "Europe's largest mass grave," the memorial center said "the new museum complex will transform the area from a place of terror and killing, into a place of peace and tranquility."
By way of comparison, Israel's Yad Vashem campus is about one-eighth the size of the complex planned for Kyiv.
Read More: Times of Israel