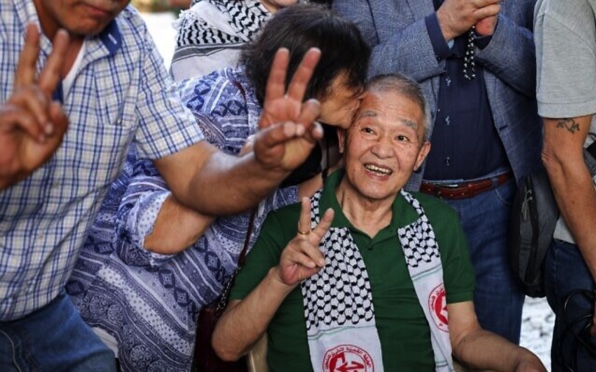 In The News
With last gunman, Palestinian terrorists in Beirut mark 50 years since Lod massacre
Palestinian terrorists in Beirut on Monday marked the 50th anniversary of a deadly attack carried out by members of the Japanese Red Army at Israel's Lod airport, alongside the last surviving perpetrator.
Kozo Okamoto, the only remaining member of a three-man terror cell that killed 26 people on May 30, 1972, at the airport near Tel Aviv, made a rare appearance at the ceremony. The two other attackers were shot dead by security forces at the scene.
The short event was held at a cemetery on the edge of Shatila Palestinian refugee camp, where Okamoto, now 74, laid a wreath on a grave honoring his fellow JRA members and flashed a V-sign.
The attack was planned by the Popular Front for the Liberation of Palestine (PFLP), which has commemorated it every year for a half-century. The PFLP is classified as a terror group by Israel, the United States, the European Union, and Japan.
The three members of the Japanese Red Army recruited by the PFLP opened fire and threw grenades at the airport, killing eight Israelis, one Canadian, and 17 US citizens from Puerto Rico, who had flown in on a pilgrimage to the Holy Land.
Read More: Times of Israel