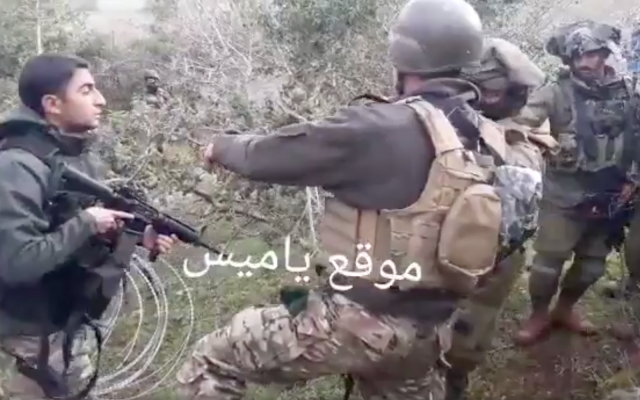 Hezbollah
With guns out, Israeli and Lebanese soldiers squabble at border
Rifles drawn, Israeli and Lebanese troops verbally sparred over Israel's placement of concertina wire along the border line separating the two countries Monday morning, as part of an ongoing IDF effort to find and destroy cross-border attack tunnels.
United Nations peacekeepers were at the scene, working to prevent conflict between the two sides.
On December 4, the Israel Defense Forces launched Operation Northern Shield, an effort to find attack tunnels dug into Israeli from southern Lebanon by the Hezbollah terror group. So far, the Israeli military has said it's uncovered four such tunnels but knows of the existence of several more.
The operation has raised prospects of a possible fresh conflict on the volatile border, though Lebanon has downplayed chances of war so long as Israeli troops do not cross the border. UN peacekeepers have also stepped up patrols to ensure the frontier remains calm.
The IDF said Monday it placed rolls of concertina wire on the Israeli side of the Blue Line, the armistice line that acts as a de facto border between the two countries. The army said it had coordinated its activities with the UN Interim Force in Lebanon, known by its acronym UNIFIL.
Read More: Times of Israel