US-Israel Relationship
White House 'cannot envision situation' where Western Wall is not part of Israel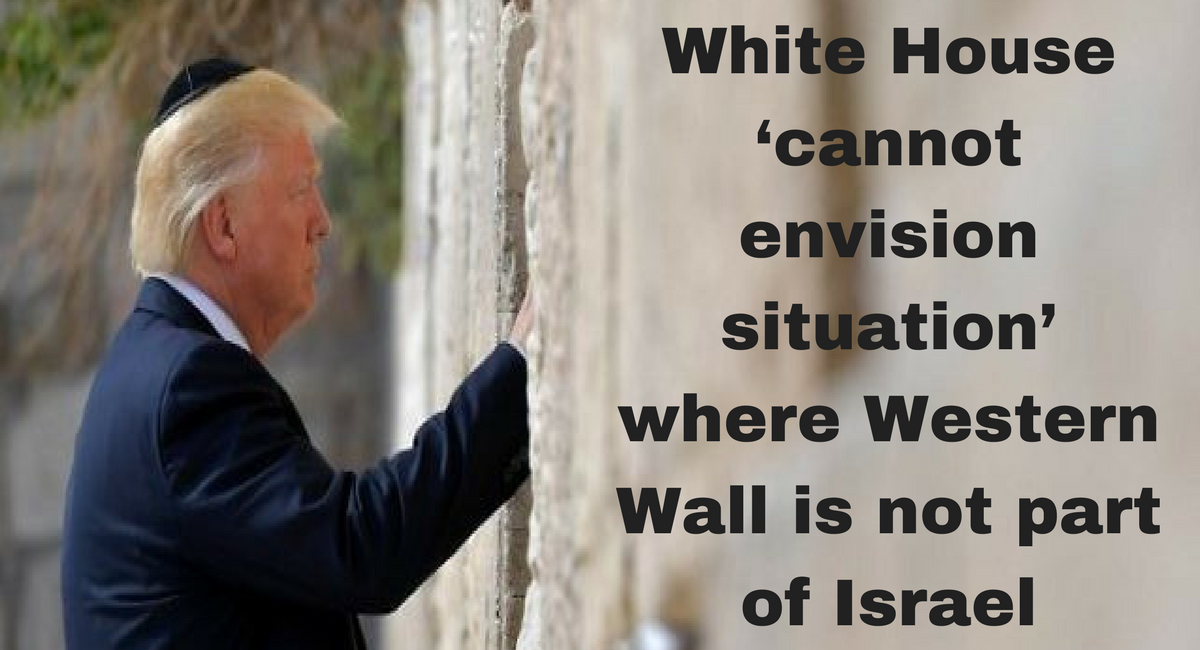 WASHINGTON — A senior administration official told reporters on Friday that the White House "envisions" the Western Wall will remain part of Israel under any accord with the Palestinians.
The comments follow US President Donald Trump's December 6 declaration that recognized Jerusalem as Israel's capital. They are certain to delight Israeli leaders — the Western Wall is the holiest place where Jews are allowed to pray — and infuriate the Palestinians, who claim East Jerusalem, including the Old City, as the capital of their intended independent state.
"We cannot envision any situation under which the Western Wall would not be part of Israel," the official said, speaking ahead of US Vice President Mike Pence's visit to Israel next week.
"But as the president said [in his speech last week on Jerusalem], the specific boundaries of sovereignty of Israel are going to be part of the final status agreement," the official said.
Furthermore, the official added, "We note that we cannot imagine Israel would sign a peace agreement that didn't include the Western Wall."
The Israeli Foreign Ministry declined to comment on the remarks and there was no immediate reaction from the Palestinians.
Pence is due to arrive in Israel on Wednesday. His trip was delayed so that he could help push a tax reform bill through Congress that Trump heavily supports.
While in Israel for three days, Pence will speak at the Knesset, visit Yad Vashem, and is slated to light a menorah at the Western Wall, which stands adjacent to the Temple Mount, the holiest place in Judaism and site of Al-Aqsa Mosque, Islam's third holiest shrine.
Pence is likely to visit the Western Wall without accompanying Israeli officials, just as Trump did in May. Trump, who became the first ever serving president to go to the Wall, said that part of his trip to Israel was a private visit.
Friday's statements marked an abrupt shift from US comments ahead of Trump's visit to the Wall, when a US official was reported to have angrily rejected a request that Prime Minister Benjamin Netanyahu accompany the president, and then sniped at his Israeli counterparts that the Western Wall is "not your territory. It's part of the West Bank."
The Western Wall, part of the retaining walls of the Second Temple compound, is the closest point of prayer for Jews to the site of the Temple itself and thus the Jewish people's holiest place of prayer. It was captured along with the rest of the Old City and East Jerusalem in the 1967 war, and annexed by Israel as part of its united capital — a move not recognized internationally.
Read More: Times of Israel