Boycott, Divestment, Sanctions (BDS)
Where Does Israel Rank In This Year's UN Happiness Index Report?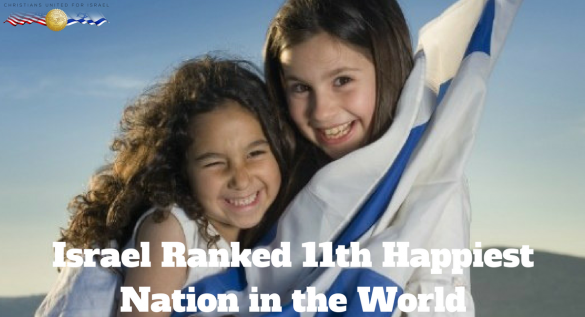 The annual World Happiness Report published on Monday by the UN Sustainable Development Solutions Network has ranked Israel as the 11th happiest country in the world in 2017, a spot it has held for four years.
Prepared by the network and the Earth Institute at Columbia University, the report's release coincides with UN World Happiness Day on March 20.
When the publication first launched in 2012, Israel was ranked at number 14 out of the 156 countries surveyed that year.
The top 10 countries this year, respectively, are Norway, Denmark, Iceland, Switzerland, Finland, Holland, Canada, New Zealand, Australia and Sweden.
Notable mentions include the United States at 14, Britain at 18 and the South American nation of Chile at 20.
The World Happiness Report is a survey of global societal well-being that ranks 155 countries by happiness levels using variables such as GDP per capita and healthy life expectancy. The report also includes extra factors such as social support, generosity, freedom to make life choices and perceived absence of corruption.
Yemen, South Sudan, Liberia, Guinea, Togo, Rwanda, Syria, Tanzania, Burundi and the Central African Republic were at the very bottom of the list, in that order.
"Happy countries are the ones that have a healthy balance of prosperity, as conventionally measured, and social capital, meaning a high degree of trust in a society, low inequality and confidence in government," Jeffrey Sachs, the network director and a special adviser to the United Nations secretary-general, said in an interview.
The aim of the report, he added, is to provide another tool for governments, businesses and civil society to help their countries find ways to improve the well-being of citizens.
Read more: Jerusalem Post