Hamas
'We'll turn Israeli cities into ghost towns,' Hamas leader warns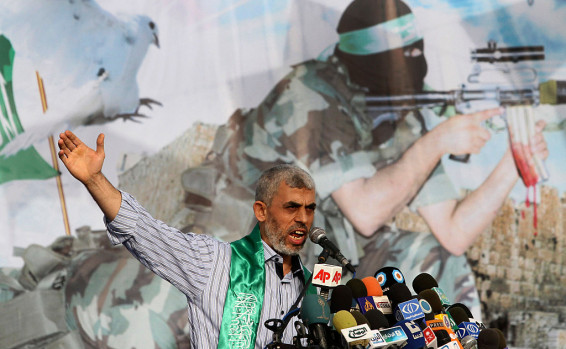 If Blue and White leader Benny Gantz "dares" to order a "foolish operation" against the resistance movement in the Gaza Strip, he will "rue the day he was born," leader of the Hamas in Gaza Yahya Sinwar declared on Monday.
Sinwar was speaking in response to remarks Gantz made about a possible military response to rockets fired from the Gaza Strip toward southern Israel.
In a meeting at which Hamas' politburo leader Ismail Haniyeh and UN Special Coordinator for the Gaza Strip Sergey Mladenov were also present, Sinwar called Gantz "the next leader of the occupation."
According to a report on the Al Ghad TV station, at a separate meeting with young people in Gaza, Sinwar said, "If Israel continues to tighten the siege on Gaza, we'll shoot rockets at Tel Aviv for six months straight. We'll turn the cities of Israel into ghost towns."
Over the past few days, Sinwar had made a number of stringent anti-Israeli declarations. In an interview Sunday, he said that a prisoner exchange deal was not currently possible because of the political situation in Israel and the "leadership vacuum it has created."
Sinwar also said that "They don't even have a government that can agree on a budget, or a limited government to discuss security issues such as the Iranian threat, for example."
Sinwar promised he would continue to work toward a prisoner exchange deal with Israel, and stressed that the welfare of Palestinian prisoners was a top priority for Hamas.
Read more: Israel Hayom