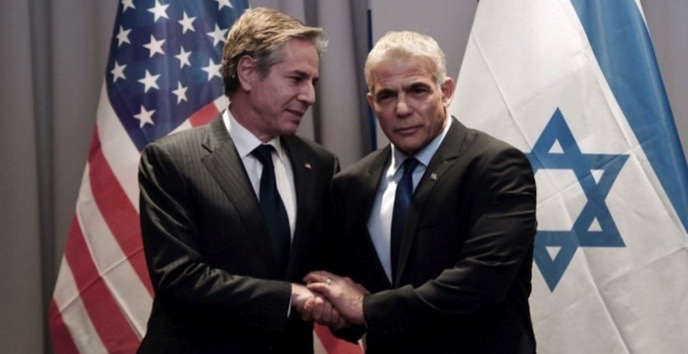 In The News
'We Have One Goal: to Stop the War' in Ukraine, Lapid Tells Blinken
US Secretary of State Antony Blinken welcomed Israeli diplomatic efforts to bring an end to "Russian aggression" in Ukraine, during a meeting Monday with Israeli Foreign Minister Yair Lapid in Latvia's capital Riga.
Israel is "totally committed to do everything possible to stop the war in Ukraine," Lapid told Blinken, during a discussion on the war in Ukraine and continuing talks in Vienna over the Iran nuclear deal.
"We have condemned the Russian invasion, and we still do," the Israeli foreign minister said. "There is no justification for violating Ukrainian sovereignty and killing innocent civilians."
"We have one goal: to stop the war and prevent more suffering and victims," he added.
Lapid described Israel as a partner in global efforts to bring the war to an end, by assisting in mediation efforts together with Germany and France. Prime Minister Naftali Bennett has held continuous talks with Russia's President Vladimir Putin and the Ukrainian counterpart Volodymyr Zelensky.
Lapid acknowledged that Israel's mediation efforts are being conducted in full coordination with the US, while reiterating Israeli security interests concerning Russia on its northern border, and its commitment to the security of hundreds of thousands of Jews and Israelis in Russia and Ukraine.
Read More: The Algemeiner