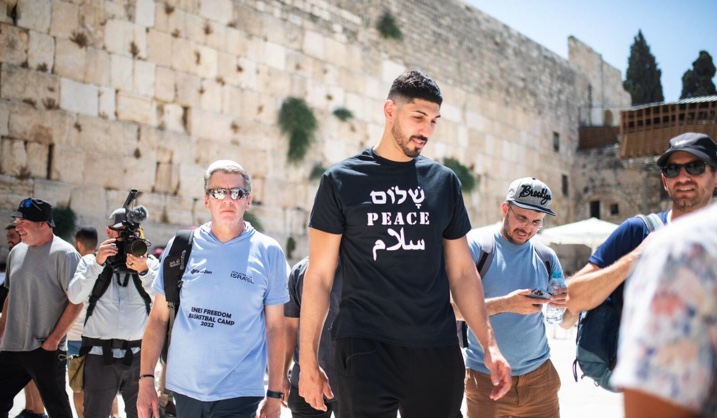 In The News
Visiting Israel, NBA star Enes Kanter Freedom says he is 'more motivated than ever' to fight antisemitism
Turkish NBA star and human rights activist Enes Kanter Freedom received a warm welcome in Israel over the weekend, visiting national and holy sites in Jerusalem, as well as hanging out at the city's most happening hot spot, Mahane Yehuda, and launching his long-dreamed-of basketball camp for Muslim, Jewish and Christian children in the capital.
"It's hard to describe in words how I feel about being here," Freedom, who is a practicing Muslim, told Jewish Insider in an interview on Sunday after spending the early morning praying at the Al-Aqsa Mosque, Islam's third holiest site.
"This is the holiest place I've ever been," continued Freedom, who on Friday visited the Western Wall and the Church of the Holy Sepulchre, the place where Christians believe Jesus was buried. Freedom said the visits to each holy site had been deeply moving and spiritual experiences.
"In every place we went, the people were so warm and friendly to me," added the 6-foot-10 center, who happily posed for selfies with anyone who asked and shared clips on social media from each religious site calling on people of different faiths to unite and open their hearts to each other.
Read More: Jewish Insider