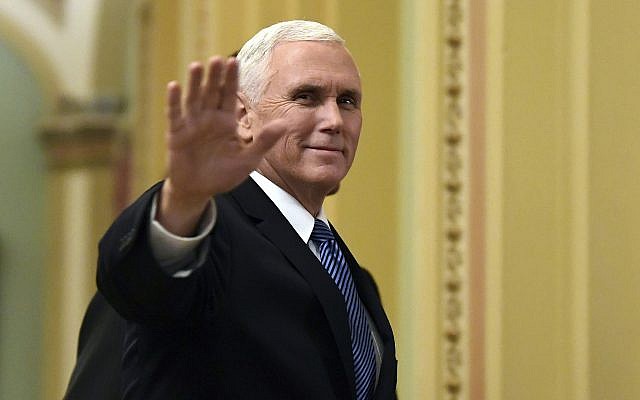 Talking Points
Vice President Mike Pence's historic Knesset Speech
Vice President Mike Pence made a historic speech at the Knesset this morning. Speaking to Prime Minister Netanyahu and Israel's lawmakers, the Vice President honored Israel's upcoming 70th anniversary and 3,000 years of Jewish history in Jerusalem and the Holy Land.
This was the first time in 10 years that a senior US Administration official addressed the Knesset since President George W. Bush spoke there to mark Israel's 60th anniversary in 2008. The Vice President boldly spoke of the spiritual and political ties between Israel and the United States, and the common bond between our two countries created by people who treasured freedom and the faith of Abraham. He left no daylight between Israel and the United States, a marked change from the speeches we have heard from US officials during the last administration.
We were excited to hear President Donald Trump's speech in December when he recognized Jerusalem as Israel's official capital, and announced the that the administration would begin making plans to move the US embassy from Tel Aviv to Jerusalem. Today, the Vice President reaffirmed the decision of the United States to recognize Jerusalem, and he announced that the Embassy would complete its move by the end of 2019.
The Vice President spoke of his hope that we have entered a new era of the peace process, and said the President believes it is possible to achieve peace between the Palestinians and Israel with the help of Arab leaders. Instead of chastising Israel for the lack of peace, as the previous President and his administration did many times, Vice President Pence affirmed Israel's efforts to achieve peace and provide freedom for people of all faiths.
In addition, the Vice President strongly condemned the disastrous Iran Deal and stated that President Trump has decided that he will no longer certify this bad deal. Vice President Pence stated that, unless the deal is fixed, the US will withdraw and resume sanctions against the regime in Tehran. He promised that the US will not allow Iran to attain a nuclear weapon, under any circumstances. And he offered the hand of friendship to Iran's people, telling them the US is not their enemy, and that when the day comes that the people of Iran throw off the oppression of their regime the United States will stand with them.
This historic speech by Vice President Pence marks a dramatic new day in American foreign policy. It also shows that CUFI has a perfect opportunity to seize the moment and work with Congress and the Trump Administration to achieve political victories that will protect Israel for decades to come.