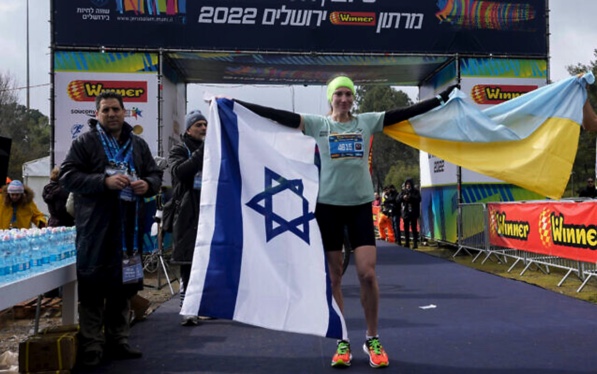 In The News
Valentyna Veretska, Ukrainian refugee, wins women's race at Jerusalem Marathon
A refugee from Ukraine who fled the country along with her daughter won the women's race in Friday's Jerusalem Marathon.
Valentyna Veretska, 32, finished the 26.2-mile (42.2-kilometer) race with a time of 2:45:54. Israeli Olympic athlete Ageze Guadie won the men's race at 2:37:17.
Veretska's husband is still in Ukraine, fighting against the Russian invasion in the country's military.
Celebrating her victory, Veretska held up the flags of both Israel and Ukraine.
Thousands braved the cold, wet weather to participate in the marathon in the capital, which began at 6:45 a.m.
Veretska, a well-known athlete in Ukraine, fled her country to Poland due to the war, along with her 11-year-old daughter.
According to Yisrael Hayom, she had been planning to take part in the Jerusalem event before the war broke out. Ahead of the marathon she contacted Israeli organizers and asked them to help her get a permit to come to Israel. She said she hoped her participation would give further focus to the plight of Ukrainians.
Since the outbreak of war, Israel, fearing an influx of refugees, has put a cap on Ukrainian arrivals. Currently only those with familial ties in the country can enter.
Read More: Times of Israel