US-Israel Relationship
US warship visit marks 'deepening cooperation' on regional threats, top officer says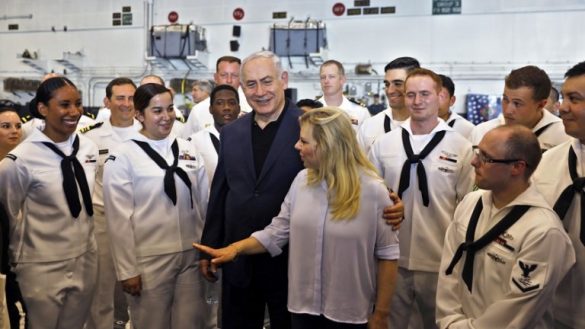 The docking of a US Navy supercarrier on the Haifa coast this week signifies deepening ties between Israel and the United States in confronting threats posed by "the global Jihad axis," according to a top IDF officer responsible for cooperation between the two militaries.
The USS George H.W. Bush aircraft carrier, which has been a leading part of the US bombing campaign in Iraq and Syria, arrived in Israeli waters on Saturday for a four-day sojourn before returning Wednesday to its regular positioning in the Persian Gulf. While it docked, crew members toured Israeli cities and celebrated American Independence Day in the Jewish state on Tuesday.
Commissioned in 2009, the 333-meter-long nuclear-powered ship can carry a crew of over 5,000, as well as around 90 fighter jets and helicopters. It is considered the world's largest aircraft carrier and largest warship overall.
Too large to enter the Haifa port, the warship dropped anchor around four kilometers from the coastline; a near-constant flotilla of boats shuttling top Israeli military brass and politicians, in addition to US naval officers, to and from the vessel.
The aircraft carrier USS George H.W. Bush is seen moored in the Mediterranean Sea off the Israeli port of Haifa on July 1, 2017. (AFP PHOTO / JACK GUEZ)
The visit to Israel, the first by a US aircraft carrier in 17 years, is "proof and testimony of the intimate, growing and deepening cooperation between the US military and the IDF," said Lt. Col. Yaniv Kapach, head of the North American Branch in the IDF's Planning Directorate.
"We are always thinking together about different channels where we can collaborate and develop further cooperation," Kapach told The Times of Israel Wednesday. "This visit is a particularly large example of that cooperation, which takes place in a range of fields and is continuing to expand."
Read More: Times of Israel