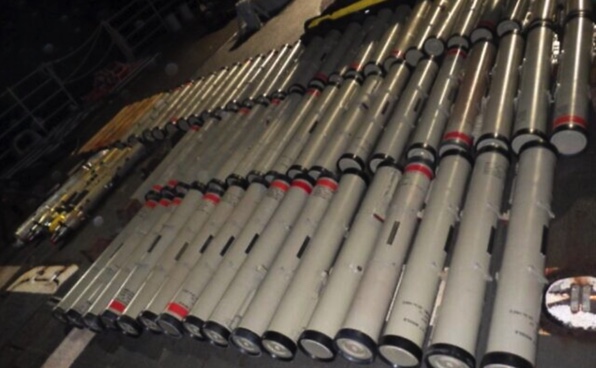 In The News
US reveals its largest-ever grab of weapons shipment by Iran's Guards
The US Navy made its largest-ever seizure of weaponry from Iran in a haul that included surface-to-air missiles as well as cruise missile parts, the US Justice Department revealed Tuesday.
The weapons were taken from two "flagless vessels" in the Arabian Sea that were delivering the cargo to Iran-backed Houthi insurgents in Yemen in 2019 and 2020, according to a statement.
"Iran's Islamic Revolutionary Guard Corps (IRGC), a designated foreign terrorist organization, orchestrated the arms shipments, which were destined for Houthi militants in Yemen," the statement said.
The haul was taken during "routine maritime security operation" on November 25, 2019, and February 9, 2020. It included 171 guided anti-tank missiles, eight surface-to-air missiles and "land attack cruise missile components, anti-ship cruise missile components, thermal weapons optics and other components for missiles and unmanned aerial vehicles."
In addition, 1.1 million barrels of Iranian petroleum products were taken from four foreign-flagged tankers in or around the Arabian Sea as they headed to Venezuela, the statement said, without specifying when those seizures took place.
Read More: The Jerusalem Post