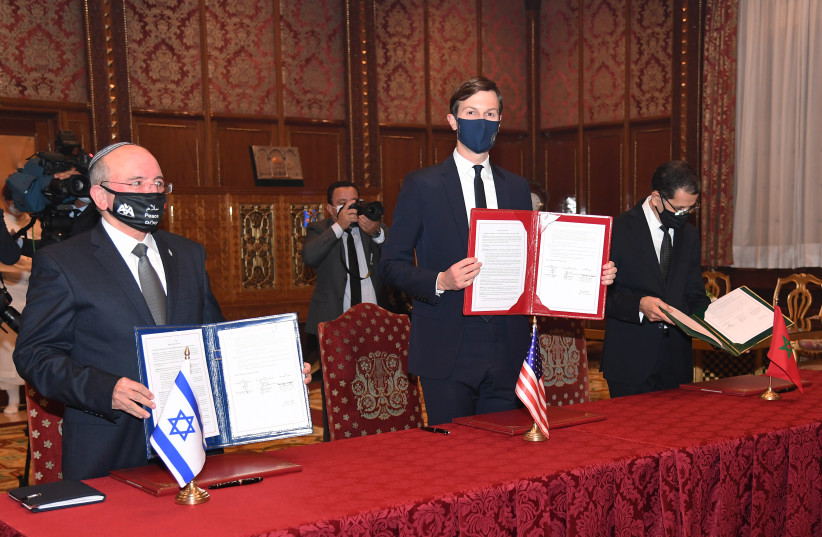 In The News
US, Moroccan NGO Sign Deal To Fight All Forms Of Antisemitism
01/16/2021
The US State Department's Office to Monitor and Combat Antisemitism signed a groundbreaking agreement with the NGO Association Mimouna of Morocco on Friday to jointly combat antisemitism and efforts to strip Israel of its legitimacy.
Ellie Cohanim, the Deputy Special Envoy to Combat Antisemitism for the State Department, told The Jerusalem Post that  "Morocco's Jewish community dates back to antiquity. With thanks to the leadership of King Mohammed VI we are seeing Judeo-Moroccan heritage being taught in schools, we have witnessed a $1.5M center dedicated to Jewish culture built in Essaouira, and now with the signing of our memorandum of understanding (MOU) agreement comes a dedication not only to honor the Jewish past in Morocco but to create a future of harmony and tolerance for all generations to come."
The high-energy diplomat Cohanim, who was born in Tehran and was forced to flee repression after the 1979 Islamic revolution, has played a role in a string of agreements with Arab countries to fight contemporary antisemitism and advance Jewish-Muslim relations.
In October, after Bahrain normalized ties with Israel, a Bahraini institute signed an agreement with the US State Department to fight antisemitism, anti-Zionism and  the delegitimization of the Jewish state.
Morocco's Ambassador to the US, Princess Lalla Joumala, said, "This new partnership is both timely and welcome as it extends the Government of Morocco's firm commitment to combating antisemitism, Islamophobia and all forms of hatred, to the civil society sector, aptly represented here by Association Mimouna of Morocco.
Read More: Jerusalem Post