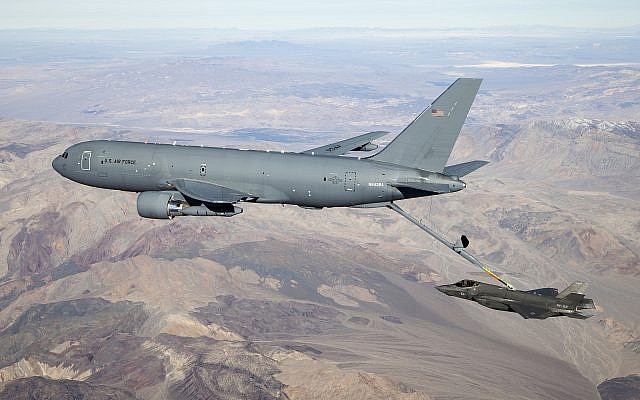 In The News
US inks deal to sell Israel 4 refueling planes needed for potential Iran strike
Aircraft manufacturer Boeing signed a contract with the US Department of Defense on Thursday to supply Israel with four KC-46 refueling planes, the company said in a statement.
The multi-role aircraft makes mid-air refueling possible for fighter jets and other aircraft, but can also be used for military transport.
For Israel, the aircraft are seen as necessary to conduct potential major strikes against targets in Iran, some 2,000 kilometers (1,200 miles) from Israel and far outside the normal flight range of Israeli jets.
The KC-45 aircraft are to replace the Israeli Air Force's current fleet of aging refueling planes, which includes KC-130 Hercules and converted Boeing 707s.
The new refuelers are scheduled to arrive in 2025 at the earliest. Israel has asked that this date be moved up — which would require the US to give up its spot in line to receive planes from Boeing — but Washington has thus far rejected the request.
Read More: Times of Israel