US-Israel Relationship
US envoy praises Honduras for supporting Jerusalem embassy move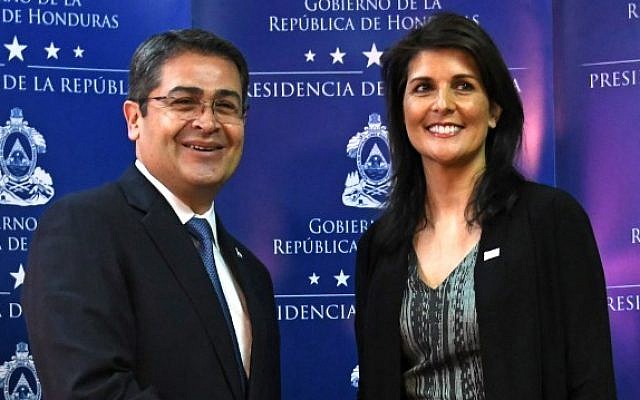 EGUCIGALPA, Honduras (AFP) — The US ambassador to the United Nations, Nikki Haley, on Tuesday heaped fulsome praise on Honduras for being one of a few countries that backed the US decision to move its embassy to Jerusalem.
In a visit to Tegucigalpa to see newly re-elected Honduran President Juan Orlando Hernandez, Haley stressed that US President Donald Trump's government was "committed" to Hernandez and his administration.
The two countries' bonds were evident, she said, in the way Honduras voted with the United States at the United Nations in December to support Trump's plan to move the US embassy to Israel from Tel Aviv to Jerusalem.
"That was not an easy decision for any country to have to vote on, but the people of Honduras stood with us in being able to make that decision for ourselves and decide where we want our embassy and to know that is our right," Haley said in a joint news conference with Hernandez.
In the end, the UN General Assembly overwhelmingly voted to condemn Trump's move.
A total of 128 of the UN's 193 member states voted against Trump's recognition of Jerusalem as Israel's capital, maintaining the international community's view that the holy city's status must be decided through talks between Israelis and Palestinians.
Just eight countries voted with the US: Honduras, Guatemala, Israel, the Marshall Islands, Micronesia, Nauru, Palau and Togo.
Backing for Honduran president
After Honduras, Haley was scheduled to visit Guatemala, which said after the vote that it would also move its embassy to Jerusalem at some point in the future.
The United States said last week it would relocate its embassy to Jerusalem in May, essentially designating its pre-existing consulate there as its main mission.
Israel claims all of Jerusalem as its capital, while the Palestinians see the eastern sector as the capital of their future state.
In Tegucigalpa, Haley emphasized that Washington stood fully behind Hernandez, who won a second mandate after a November election bitterly disputed by the opposition, which called the vote rigged.
Read More: Times of Israel