US-Israel Relationship
US cancels shipments of F-35 equipment to Turkey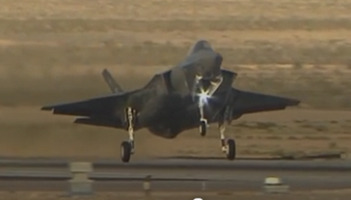 The United States has put a hold on delivering F-35 fighter aircraft equipment to Turkey over Ankara's "unacceptable" plans to buy a Russian air defense system, according to the Pentagon.
Until Turkey forgoes the delivery of Russia's S-400 long-range air defense system, "the United States has suspended deliveries and activities associated with the stand-up of Turkey's F-35 operational capability.  Should Turkey procure the S-400, their continued participation in the F-35 program is at risk," chief Pentagon spokesman Charles Summers said in a statement released Monday.
"The United States has been clear that Turkey's acquisition of the S-400 is unacceptable. . . .We very much regret the current situation facing our F-35 partnership with Turkey, and the DoD is taking prudent steps to protect the shared investments made in our critical technology."
Reuters first reported on Monday that U.S. officials relayed to their Turkish counterparts that they will not get any more shipments of F-35-related equipment, as they have been canceled. The NATO ally needs the equipment to prepare to receive the aircraft, which has a tentative November delivery date.
The move is the latest effort from Washington to pressure Turkey not to buy the S-400.
Read More: The Hill