US-Israel Relationship
US boycotts UN discussion on Israeli human rights abuses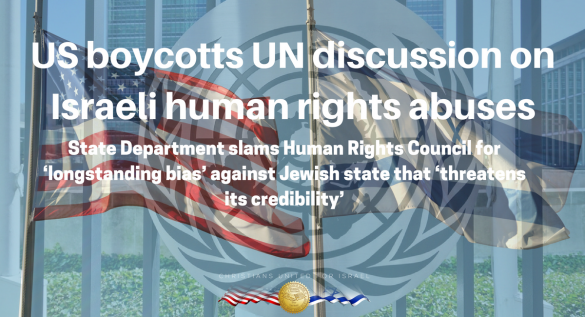 The US on Monday issued a strongly worded statement accusing a United Nations body of longstanding bias against Israel.
Amid threats from Secretary of State Rex Tillerson to withdraw entirely from the United Nations Human Rights Council, the State Department announced it would boycott the council's entire Monday discussion about alleged human rights abuses committed by Israel and vote against any resolutions that came from it.
"The United States strongly and unequivocally opposes the existence of the UN Human Rights Council's Agenda Item Seven: 'Human rights situation in Palestine and other occupied Arab territories,'" acting spokesperson Mark Toner said in a statement.
Agenda Item Seven is a permanent fixture requiring the council to discuss three times each year any alleged abuses of human rights committed by Israel against Palestinians. Toner said that the item threatens the credibility of the council.
"Today's actions in the Council are yet another reminder of that body's longstanding bias against Israel," he said. "No other nation has an entire agenda item dedicated to it at the Council. The continued existence of this agenda item is among the largest threats to the credibility of the Council. It does not serve the interests of the Council to single out one country in an unbalanced matter."
Israel is the only country-specific issue that has a permanent place on the council's agenda, an opening for discussion about the Jewish state that often sees anti-Israel invective delivered at council meetings from Arab and Muslim states.
"Later this week, the United States will vote against every resolution put forth under this agenda item and is encouraging other countries to do the same," Toner said.
Israeli Ambassador to the UN Danny Danon also slammed to council.
"The UN Human Rights Council has turned harming Israel into its raison d'etre," he said. "The time has come to end to this shameful, and even embarrassing, chapter in the history of the UN. Members of the Council must put an end to the bias in this absurd body."
Earlier, Michael Lynk, the special rapporteur on Palestinian territories held by Israel since 1967, warned that the "illegal settlement enterprise has moved at an alarming pace" this year.
The US has always boycotted the discussion of the agenda item on Israel, and for the past several years Jerusalem has encouraged other nations to do the same.
Last month, US Ambassador to the UN Nikki Haley called out the Human Rights Council for "breathtaking double standards" and "outrageously biased resolutions" against Israel, during a press conference after her first meeting with the UN Security Council.
Earlier this month US envoy Erin Barclay said the United States' commitment to human rights "is stronger than ever." However, she slammed the council for its focus on Israel.