US-Israel Relationship
US blocks UN resolution condemning Israel for deaths in Gaza clashes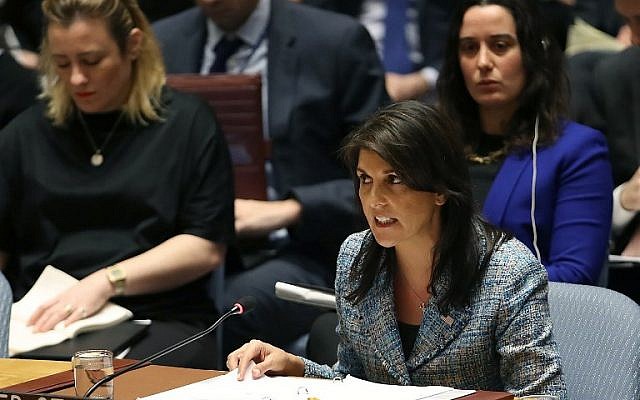 The United States on Saturday blocked a draft UN Security Council statement urging restraint and calling for an investigation of clashes on the Gaza-Israel border, diplomats said.
Kuwait, which represents Arab countries on the council, presented the proposed statement, which called for an "independent and transparent investigation" of the violence.
The draft council statement also expressed "grave concern at the situation at the border." And it reaffirmed "the right to peaceful protest" and expressed the council's "sorrow at the loss of innocent Palestinian lives."
The Israeli military on Saturday night identified 10 of the 16 people reported killed during violent protests along the Gaza security fence as members of Palestinian terrorist groups, and published a list of their names and positions in the organizations.
The draft statement was circulated to the council on Friday, but on Saturday the United States raised objections and said it did not support its adoption, a Security Council diplomat told AFP.
The US mission to the United Nations did not immediately respond to a request from AFP for comment.
The proposed statement also called "for respect for international human rights law and international humanitarian law, including protection of civilians," according to the draft seen by AFP.
Council members "called upon all sides to exercise restraint and prevent a further escalation," the draft said. The proposed statement stressed the need to promote peace between Israel and the Palestinians based on a two-state solution.
The Palestinian Authority on Saturday blamed the US and Britain for obstructing the Palestinian and Arab effort to persuade the Security Council to issue a resolution blasting Israel for the 16 Palestinian fatalities.
Yusef al Mahmoud, spokesperson for the PA government in Ramallah, said that Washington's and London's opposition to a resolution condemning Israel "turns them into accomplices in the horrific massacre committed by the Israeli occupation army against our defenseless people."
Read More: Times of Israel