US-Israel Relationship
US Army inks $193 million deal to buy Israeli tank defense system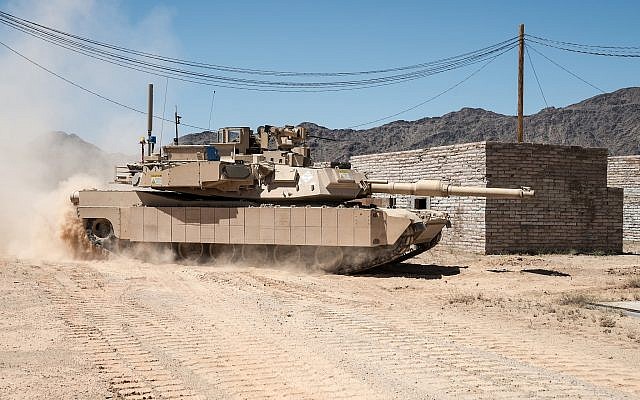 The US Army on Tuesday awarded a contract worth nearly $200 million for Israel's TROPHY defense system to shield its Abrams tanks, according to the Rafael Advanced Defense Systems contractor.
The systems, which block incoming anti-tank missiles, will be supplied to the US Army by the Armerican defense contractor Leonardo DRS, Inc., which partnered with Rafael to manufacture them.
The TROPHY, known in Hebrew as me'il ruach, or windbreaker, is an active defense system manufactured by Rafael that is designed to protect tanks and other armored vehicles from missiles and rockets.
It was first developed by Rafael and the Israel Aircraft Industries' Elta Group and was declared operational in 2009.
The system is made up of a radar detection system that spots incoming missiles and predicts their trajectories, and launchers that fire buckshot-like metal pellets, which cause the incoming missile or rocket to detonate away from the tank.
The deal with the US Army to supply the system and accompanying parts is worth $193 million, Rafael said in a statement.
"Under the terms of the contract, Leonardo DRS will provide the [US] Army with TROPHY systems, countermeasures, and maintenance kits," the Israeli defense contractor said.
Parts of the TROPHY will be made in the US and some in Israel, according to Rafael.
"Leonardo DRS is proud to be a part of this important effort to bring life-saving technology to our warfighters, and we are actively investing to ensure TROPHY provides a solid, American-made foundation for the Army's coming Vehicle Protection Suite program," said Aaron Hankins, of Leonardo DRS, in a statement.
The TROPHY system has been in use in Israel's Merkava-model tanks since at least 2011, and more recently in the military's armored personnel carriers.
Rafael said it has supplied "some 1,000 systems to all major Israeli ground combat platforms."
Read More: Times of Israel