Issues
US-Israel Relationship
US announces withdrawal from UNESCO, cites 'anti-Israel bias'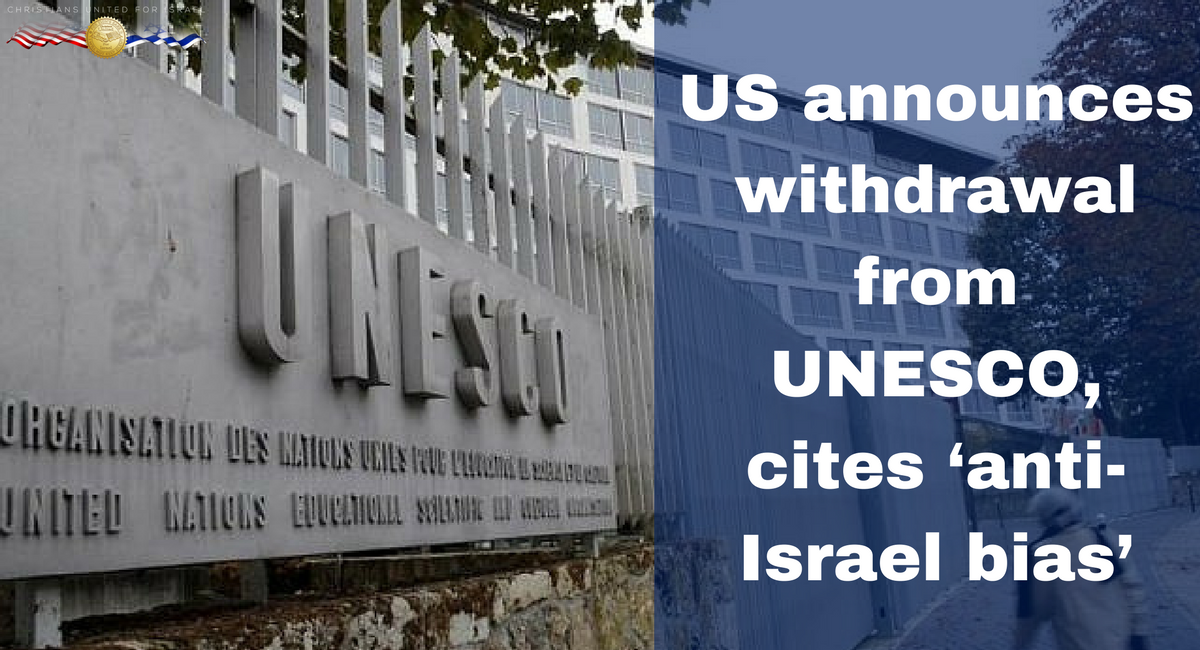 The United States announced Thursday that it is withdrawing from the United Nations Scientific and Cultural Organization (UNESCO), citing financial considerations, the need for reform and the organization's "continuing anti-Israel bias."
In a statement, State Department spokeswoman Heather Nauert said that the decision was "not taken lightly and reflects US concerns with mounting arrears at UNESCO, the need for fundamental reform within the organization and continuing anti-Israel bias at UNESCO."
Nauert said Washington would establish an "observer mission" to replace its representation at the Paris-based agency.
The withdrawal will take effect on December 31, 2018.
The head of UNESCO Irina Bokova voiced "profound regret" over the decision, which she called a "loss to multilateralism."
"I wish to express profound regret at the decision of the United States of America to withdraw from UNESCO," Bokova said in a statement.
Israel's Ambassador to the UN, Danny Danon, said UNESCO has become a forum for Israel-bashing and had forgotten its original purpose. It was now "paying the price" for the "shameful" decisions it has adopted against Israel, he said, citing "a new era" dawning at the UN in which "anti-Israel discrimination" has consequences.
According to a Foreign Policy magazine report on Wednesday, US Secretary of State Rex Tillerson made the decision to withdraw several weeks ago at the UN General Assembly, but the State Department urged Washington to remain in the organization until a new director-general is voted in the coming weeks.
Washington has also been trying to mitigate the mounting unpaid dues it owes to the organization since it suspended its funding after UNESCO granted full membership to Palestine in 2011.
Many saw the vote to include Palestine as evidence of long-running, ingrained anti-Israel bias within the United Nations, where Israel and its allies are far outnumbered by Arab countries and their supporters.
Washington's unpaid dues have now reached $500 million, and Tillerson is trying to "stop the bleeding," the magazine said.
The Trump administration has been preparing for a likely withdrawal for months, according to US officials. Several diplomats who were to have been posted to the mission this summer were told that their positions were on hold and advised to seek other jobs.
In addition, the Trump administration's proposed budget for the next fiscal year contains no provision for the possibility that UNESCO funding restrictions might be lifted.
The lack of staffing and funding plans for UNESCO by the US have been accompanied by repeated denunciations of UNESCO by senior US officials, including US Ambassador to the United Nations Nikki Haley.
The US pulled out of UNESCO in the 1980s because Washington viewed it as mismanaged and used for political reasons, then rejoined it in 2003.
Voting in a new director-general
UNESCO member states, meanwhile, are voting on a new director-general, in a process marked by intense diplomatic wrangling between the seven candidates.
Arab countries have long wanted to lead the organization, though divisions over Palestinian membership have complicated their push.
Read More: Times of Israel