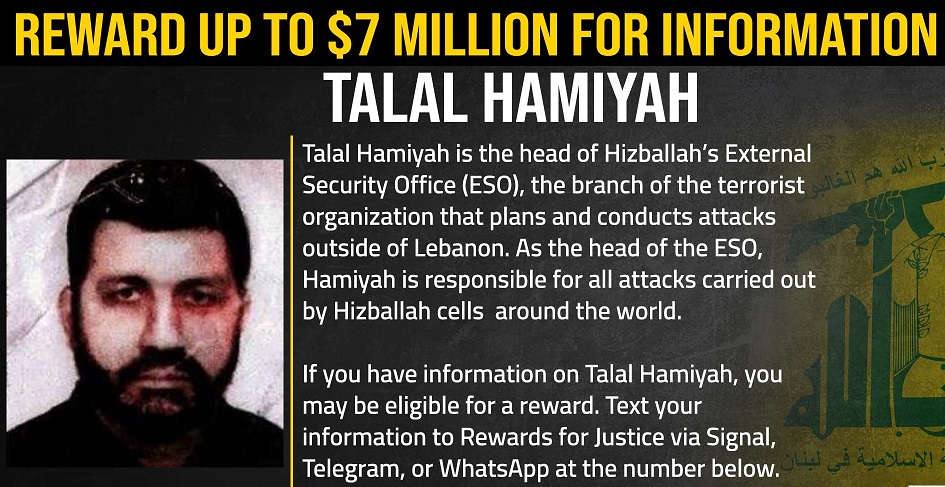 In The News
US announces $7M bounty on senior Hezbollah official
The FBI has offered a $7 million reward for tips that lead to the arrest of Talal Hamiyah, who heads the branch of Hezbollah that coordinates and executes terrorist attacks outside Lebanon, Al Arabiya reported Monday.
The US State Department's Rewards for Justice program posted a Twitter message explaining that as head of Hezbollah's External Security Office, Hamiyah is "responsible for all attacks carried out by Hizballah [sic] cells around the world."
On Sept. 8, the State Department offered "up to $10 million" for information that would help them "disrupt financing" for Hezbollah and Iran's elite Quds Force by tracking down Muhammad Qasim al-Bazzqal and Ali Qasir, both of whom the State Department said were high-ranking officials in a front company for Hezbollah.
On Aug. 22, the Rewards for Justice Twitter feed offered up to $5 million for information that would lead US officials to Khalil Yusif Harb, an advisor to Hezbollah leader Sheikh Hassan Nasrallah. According to the post, Harb has overseen Hezbollah activity in a number of Middle East countries and liaised between Hezbollah and other terrorist groups, as well as sending funds to Hezbollah allies in Yemen.
Read More: Israel Hayom