US-Israel Relationship
US and Israel sign agreement to strengthen partnership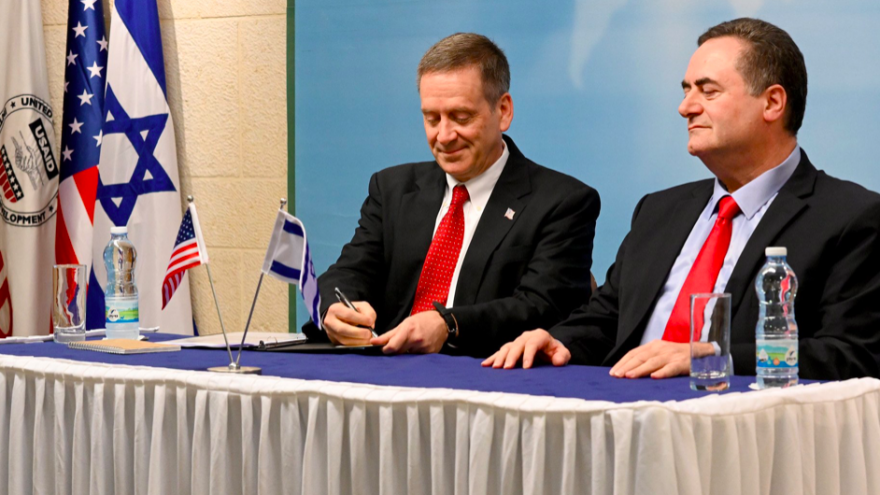 The United States and Israel signed a memorandum of understanding (MOU) on Wednesday to strengthen the alliance between the two countries.
U.S. Agency for International Development (USAID) administrator Mark Green and Israeli Foreign Minister Israel Katz signed the global partnership agreement in Jerusalem to enable "the American and Israeli private sectors to help increase employment opportunities and build resilient communities" and further "development cooperation in water, education, technology, science, agriculture, cyber-security and humanitarian assistance," according to USAID.
"Today's occasion is an opportunity to celebrate this bond, which has driven all dimensions of our bilateral relationship. It is also an opportunity to renew and deepen our friendship through even closer collaboration, friendship in action, shared values in operation," said Green in a speech. "It's only natural that our two development agencies work together. After all, we very much share the same vision."
Regarding USAID's counterpart in Israel, Green said that "MASHAV's vision to empower other nations to improve their own lives closely parallels USAID's goal of fostering self-reliance. And fostering self-reliance in people, in communities, and in countries where we work and those whom we assist."
Self-reliance has been a core part of Green's agenda at the helm of the agency that is tasked with administering U.S. assistance.
During his visit in Israel, Green also met with U.S. Ambassador to Israel David Friedman.
In February, USAID halted all projects in Gaza and the West Bank in accordance with the Anti-Terrorism Clarification Act (ATCA), which provides protections for American victims of international terrorism.
Two months beforehand, Green told JNS, "We do have strict guidelines on who we work with, and that's simply not just what we do, but across the U.S. government. [There] are guidelines that we follow. We follow administration policy."
Currently, there is House legislation pending in the Senate that would amend the ATCA and reauthorize resuming the projects in the West Bank and Gaza, even though such a decision would ultimately be left to the Trump administration.
Green made no mention in his speech on Wednesday of the halted USAID projects for the Palestinians.
Read more: Jewish News Syndicate