US-Israel Relationship
US ambassador, Israel president pay condolence visits to family of slain student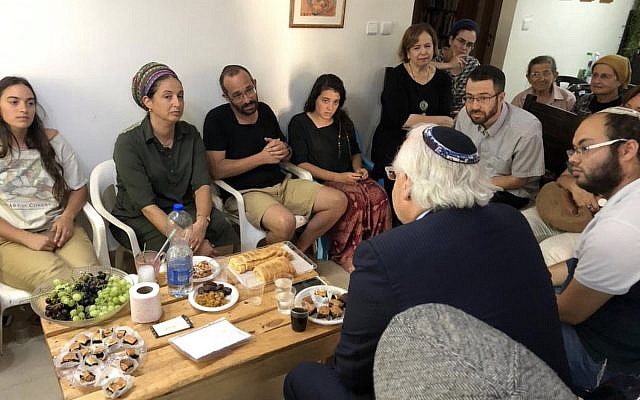 President Reuven Rivlin paid a condolence visit Monday to the family of Dvir Sorek, the 18-year-old killed in a terror attack in the West Bank last week, calling the youth an "inspiration."
Rivlin's visit came shortly after US Ambassador to Israel David Friedman also paid a condolence call to the family in the settlement of Ofra.
Sorek was stabbed to death by a Palestinian suspect outside the West Bank yeshiva where he studied. His body was discovered in the predawn hours of Thursday morning, prompting a massive manhunt for the killers. Though formally a soldier while enrolled in a study program at the yeshiva, he was unarmed and not in uniform at the time of the attack.
In his comments during the visit, released to the media by the president's staff, Rivlin told the family, "We at the President's Residence know about the home you have built because of our connection to you, Yoav [Dvir's father], in our work on the 'four tribes' speech. I got to know your views and your critical thinking. For me, this home is a beacon for us all. A beacon of dialogue, of listening, of understanding that even if we disagree with one another's opinions, we will at least know each other. Everyone will tell the other about his world."
Yoav Sorek is a prominent conservative commentator who edits the journal Hashiloach.
In their meeting, Sorek family members told Rivlin "about Dvir, about his love of the land and of walking its paths which gave him inner peace, and about his studies at yeshiva where he deepened his environmental studies," the President's Residence statement said.
"I cannot give you consolation," Rivlin was quoted as saying in response. "I know, recently more than ever, that loss cannot be consoled with words," he added, a reference to the president's wife Nechama, who died on June 4 after a long battle with a lung disease.
Rivlin added: "But I hope you can find strength from the inspiration that Dvir has given us all as we have got to know his character."
Friedman's visit earlier Monday came just two days after the envoy traveled to the US to bury his own mother.
"Rough week: mourned the passing of my beloved mother, mourned the calamities that befell the Jewish people on the ninth day of Av, and mourned with the Sorek family the murder of their beloved son. May all those in mourning be comforted from Heaven," Friedman wrote on Twitter.
The 9th of Av is the annual Jewish day of mourning for the destruction of both Jewish temples and numerous other tragedies.
Friedman's mother Adelaide passed away last week at the age of 91. She was buried in New York, with Friedman spending part of the traditional week of mourning in New York and part in Israel. He visited Sorek's family immediately after concluding his own mourning period, or shiva.
"My heartfelt thanks to officials of the US, Israel and so many other governments, along with friends & even strangers, who extended their condolences," Friedman later tweeted. "Very comforting that even those with whom I share political disagreements put those aside to share in mourning my incredible Mom."
Sorek's suspected killers were apprehended over the weekend.
The Shin Bet security service announced Saturday that it had arrested two Palestinian cousins suspected in the deadly stabbing, identifying them as Nasir Asafra, 24, and Qassem Asafra, 30, from the village of Beit Kahil in the southern West Bank. While the Israel Defense Forces said the former is a Hamas member, neither had any prior arrests.
Sorek was studying at a yeshiva as part of a program combining Torah study and military service. He was last seen leaving the Migdal Oz settlement, where the yeshiva is located, on Wednesday to buy books as presents for his teachers in Jerusalem.
Two of the largest Palestinian terror groups — Hamas and the Iran-backed Palestinian Islamic Jihad — praised the stabbing and claimed it was a response to a recent wave of East Jerusalem demolitions carried out by Israel last month. Neither group claimed direct responsibility.
Read more: The Times of Israel