Iran
Issues
Unveiling clock showing 8,411 days left for Israel, Iranians rage against Jewish state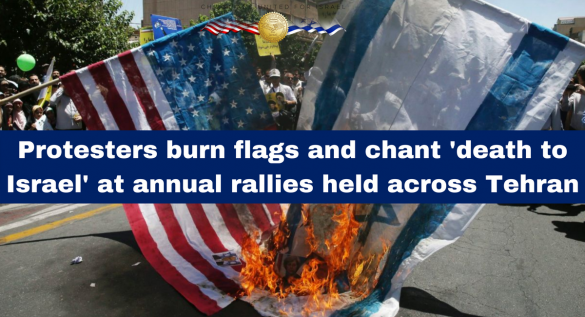 TEHRAN — Iran held major anti-Israel rallies across the country Friday, with protesters chanting "Death to Israel" and condemning the occupation of Palestinian land.
Marchers in Tehran headed from various points of the city toward the Friday prayer ceremony at Tehran University. Similar demonstrations were held in other cities and towns in Iran, according to state media.
Iran's powerful Revolutionary Guard used the demonstration in the capital's Valiasr Square to showcase three surface-to-surface ballistic missiles, including the Zolfaghar — the type that Iran used this week to target the Islamic State group in Syria. The Guard said it fired six such missiles on Sunday at IS targets in the city of Deir el-Zour, more than 600 kilometers (370 miles) away. The Guard said the airstrike was in retaliation for an IS attack earlier in June on Iran's parliament and a shrine in Tehran that killed 18 people and wounded more than 50.
Another missile on display at the Tehran rally was the Ghadr, with a range of 2,000 kilometers (1,250 miles) that can reach both Israel and US bases in the region.
Iran's ballistic missile program has been the subject of persistent concern in Washington and the target of repeated US sanctions
Read More: Times of Israel