Boycott, Divestment, Sanctions (BDS)
University of Toronto student group hosts alleged former member of the PFLP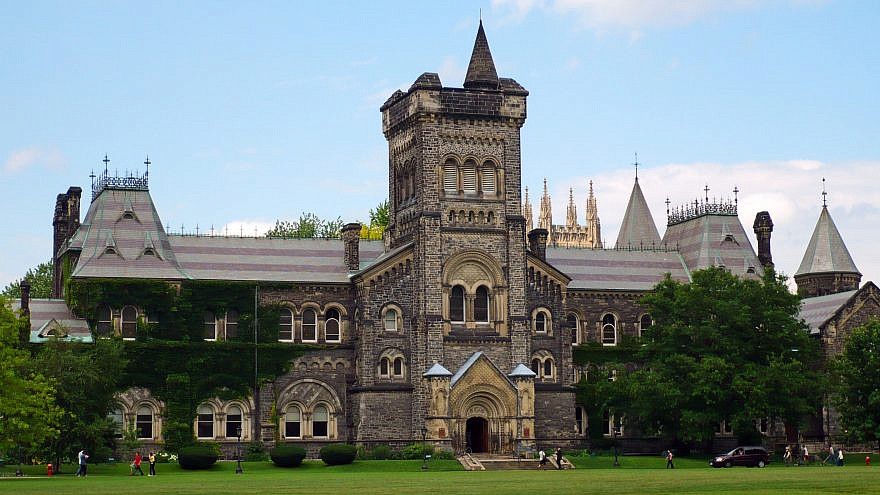 (September 11, 2019 / JNS) A University of Toronto student group hosted an alleged former member of the Popular Front for the Liberation of Palestine (PFLP), Issam Al-Yamani, on Tuesday.
Hosted by the school's Students Against Israeli Apartheid UofT student group and sponsored by Independent Jewish Voices-UofT, Al-Yamani spoke at a building belonging to a branch of the Canadian Union of Public Employees, representing professors and teaching assistants at the university.
Canada and the United States consider the PFLP to be a terrorist group.
"The organizers of this event do not have a booking at the University of Toronto or the University of St. Michael's College, which is an independent institution federated with UofT," University of Toronto spokesperson Elizabeth Church told JNS. "As such, the event is not occurring on either University of Toronto or University of St. Michael's College property."
She continued, "The groups hosting this event are autonomous organizations and act independently from the University of Toronto in their day-to-day operations. All such autonomous organizations express their own views, not the views of the university."
In a statement leading up to the event, Friends of the Simon Wiesenthal Center president and CEO Avi Benlolo said "we are very pleased that the Issam Al-Yamani event will no longer be taking place on UofT campus. Individuals connected with terrorism and violence against civilians should not benefit from an audience at our universities. We must stand up to those who promote violence, those looking to spread hate among our students."
The director of advocacy and issues management for Hillel Ontario, Ilan Orzy, first discovered the event on social media.
"We are deeply concerned about his presence on campus, and obviously very perturbed by the idea that a person with ties to a terrorist organization would be even invited to campus," he told The Canadian Jewish News. "And beyond that, we have engaged in conversations with the University of Toronto's administration and have made them aware of our concerns.
"With the beginning of the school year upon us, there are new students on campus in the Jewish community who have never experienced issues like these," added Orzy. "And we do our best to not only support them in addressing these issues, but ensuring that they continue to have a vibrant and safe university experience, regardless of what else is going on on campus."
The event's organizers did not respond to a request for comment from The Canadian Jewish News.
Al-Yamani was ordered in 2005 to be deported, though that has not been carried out.
"A 2014 Canada Border Services Agency (CBSA) report alleged (Al Yamani) was a 'danger to the security of Canada' who formerly led a terrorist cell that conducted a bombing," and that CBSA deemed this speech as a way to incite violence, according to a 2018 Global News investigation.
Read more: Jewish News Syndicate