Issues
UNESCO to postpone vote on upcoming anti-Israel resolutions — Israeli envoy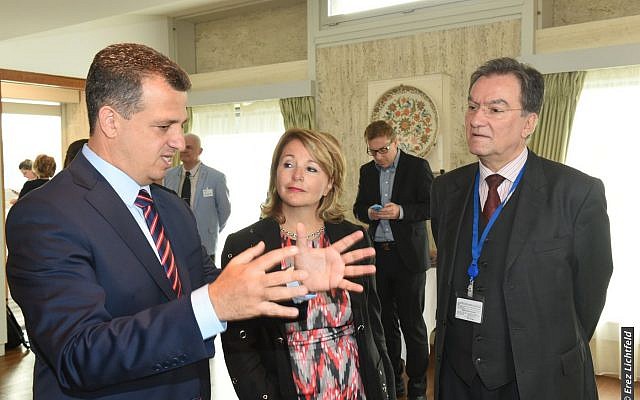 For the first time in years, the United Nations cultural arm will likely not pass any anti-Israel resolutions at its major summit this week, in what would amount to a significant diplomatic victory for Jerusalem.
As they have done a number of times annually in past years, several Arab nations in the UN's Educational, Scientific and Cultural Organization drafted two resolutions condemning Israel for various actions in Jerusalem, the Gaza Strip, the Golan Heights and elsewhere.
But as a result of intense Israeli and American lobbying, no such texts will be voted on during UNESCO's 202nd Executive Board meeting, which starts Monday in Paris.
Instead, two resolutions pushing off the aforementioned proposals for six months are expected to be passed unanimously.
The chairman of the Executive Board, German diplomat Michael Worbs, is set to propose the body include Resolutions 202 EX/39 and 202 EX/38 in its agenda for its next session, which is scheduled for April 2018.
The resolutions postponing the two anti-Israel texts is set to be voted on Wednesday.
"The resolutions are expected to pass unanimously — unless a country breaks its commitment in the last moment," Israel's ambassador to UNESCO, Carmel Shama-Hacohen, told The Times of Israel on Saturday.
He said Israel had not offered the countries any quid-pro-quo to vote in favor of delaying the resolutions.
UNESCO is currently in the process of choosing a new director-general, one of whose key tasks will be to regain US funding for the organization. Accused of anti-Israel bias in the Israeli-Palestinian conflict and foot-dragging on reforms, UNESCO infuriated Israel and the United States by granting full membership to Palestine in 2011. Both countries suspended their funding to the agency over the move.
One of the resolutions to be postponed this week is similar to one passed in May that downplays Jewish links to Jerusalem. The other resolution levels of host of accusations against Israel, including "Israeli army violations against Palestinian universities and schools" and calling on Jerusalem to "cease all of its settlement activities."
Israel routinely faces uphill battles when facing anti-Israel resolutions by the Paris-based body. However, in recent months, more countries have begun to vote against resolutions critical of Israel described as one-sided.
On May 2 — Israel's Independence Day — UNESCO's Executive Board passed a resolution that denied Israeli claims to Jerusalem and called Israel the "occupying power." Twenty-two countries voted in favor of the motion, 10 opposed and 23 abstained.
Read More: Times of Israel