Issues
UNESCO-affiliated scholars slam agency's anti-Israel bias, plead for rethink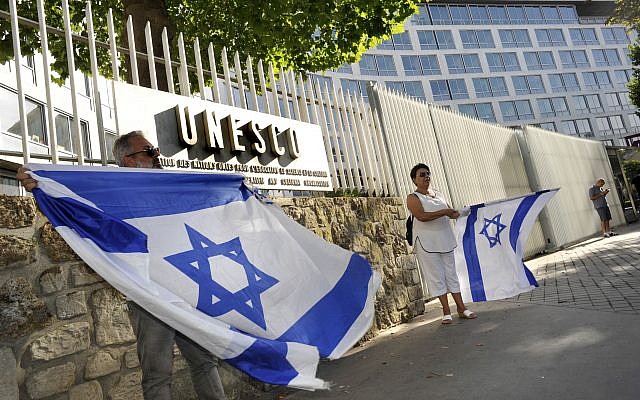 A group of scholars affiliated with UNESCO criticized the agency for recent one-sided resolutions on Jerusalem, calling for a new approach to sensitive holy sites that takes into consideration everyone's religious sensitivities.
"The UNESCO decisions on the holy sites in Jerusalem have failed to draw on expert scholarship and knowledge," the scholars said in a joint statement, issued Thursday at the close of a conference in Israel's capital.
"The reality in Jerusalem is complex. Complexity is the solution, not the problem. To understand the multi-layered situations and to avoid simplistic, inadequate and divisive responses that can, and do, have harmful consequences, scholarly expertise is required."
The 15 scholars who issued the statement are members of UNESCO's UNITWIN network for interreligious and intercultural studies. They include experts in intercultural studies from the US, Israel, France, Tajikistan, New Zealand, Russia and India.
Earlier this month, the US administration announced it was quitting UNESCO (the United Nations Educational, Scientific and Cultural Organization). Israel commended Washington for the move, with Prime Minister Benjamin Netanyahu saying UNESCO "has become a theater of the absurd" that distorts history instead of preserving it. He ordered the Foreign Ministry to "prepare Israel's withdrawal from UNESCO in parallel with the US."
A day later, former French culture minister Audrey Azoulay defeated a Qatari rival and was elected UNESCO's new director-general. Given her Jewish background, Israeli officials have expressed hope for the organization to shed its anti-Israel bias. Azoulay has pleaded with member-states to get more involved, and not to quit, the organization.
"The director-general-elect seems to have the will to bring about transformation," said Steven Shankman, chair for Transcultural Studies, Interreligious Dialogue, and Peace at the University of Oregon. "It is not enough to point out the faults in UNESCO procedures. We UNESCO academic chairs can critique, but we can also point the way forward. Our call is not only a voice of academic criticism; it is also a message of hope for the future of UNESCO."
Titled "Naming the Sacred," the three-day conference was convened to discuss a series of UNESCO resolutions that have ignored the Jewish people's ties to Jerusalem and denied Israel's claims to the city.
Read More: Times of Israel