US-Israel Relationship
UN to vote on resolution bashing Israel, with US pushing for Hamas condemnation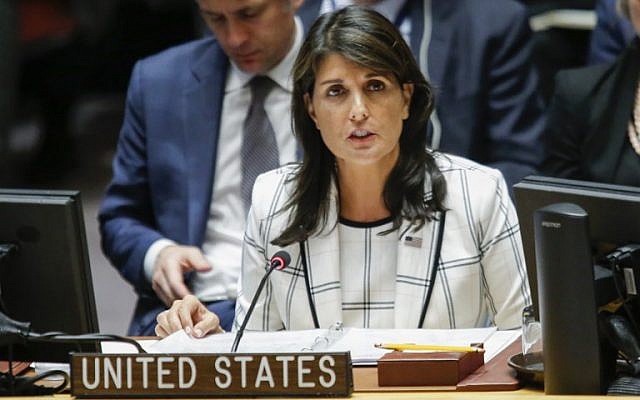 WASHINGTON — The United Nations General Assembly is slated to vote on a resolution Wednesday condemning Israel for Palestinian deaths in Gaza, a move fiercely opposed by the United States, which is pushing for Hamas to face condemnation.
The 193 nations that make up the world body will vote on an Arab-backed measure that deplores what it calls Israel's "excessive use of force" and calls for "protection of the Palestinian civilian population" in Gaza. It resembles a similar resolution Kuwait introduced at the Security Council earlier this month — which the US vetoed.
The text was put forward by Algeria and Turkey on behalf of the Arab League and the Organization of Islamic Cooperation.
US Ambassador Nikki Haley slammed the measure as "fundamentally imbalanced" for its failure to mention Hamas and has proposed an amendment that condemns the Palestinian terror group.
Now that the motion is being brought to the General Assembly, US Ambassador to the UN, Nikki Haley, wants to counter that measure with a another that castigates the Islamist organization that rules the Gaza Strip.
"Any resolution focused on the protection of civilians in Gaza must recognize the destabilizing and reckless actions of Hamas, which endanger the lives and livelihoods of innocent civilians," Haley wrote in a letter sent to her fellow UN envoys on Tuesday.
Haley proposed an amendment condemning Hamas for firing rockets into Israel and inciting violence along the Gaza-Israel border fence, "thereby putting civilians at risk." The proposal also would condemn the diversion of resources in Gaza to building tunnels to infiltrate Israel and equipment to fire rockets and express "grave concern" at the destruction of the Kerem Shalom crossing point to Israel "by actors in Gaza."
Haley said the amendment "is not controversial" and simply condemns "behavior we should all recognize as harmful to the Palestinian people."
Read More: Times of Israel