Hamas
Ukraine's new president sworn in: 'We must defend our land like Israelis'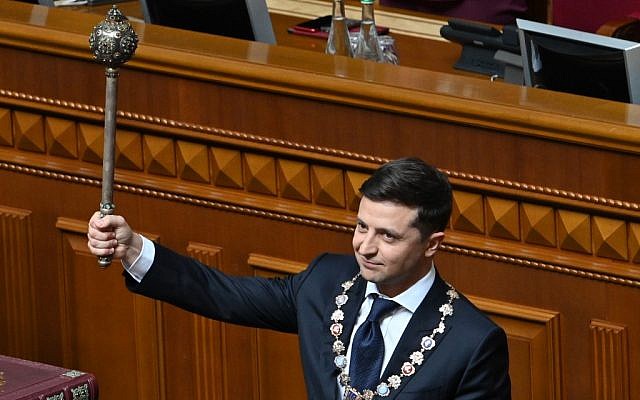 Comedian Volodymyr Zelensky stepped into his new role as Ukrainian president with his inauguration on Monday, launching a new era for the country wracked by war and economic difficulties.
A month after scoring a landslide election victory against incumbent Petro Poroshenko, the 41-year-old became Ukraine's youngest post-Soviet president.
In a ceremony in parliament, he placed his hand on a copy of the constitution and a 16th century manuscript of the New Testament and pledged to "protect the sovereignty and independence of Ukraine."
"We must become Icelanders in soccer, Israelis in defending our land, Japanese in technology," he said, according to a report from the BBC.
He used his inaugural speech to announce that he is dissolving parliament, after wrangling with lawmakers in the lower house, in order to call early parliamentary elections, which had originally been scheduled for October.
"People must come to power who will serve the public," Zelensky said.
Critics had questioned whether Zelensky would be able to govern without a parliamentary majority. Even setting a date for his inauguration took weeks of negotiations with hostile lawmakers, whom Zelensky exasperatedly called "petty crooks."
He also vowed that his first task was to bring a ceasefire in the conflict with Moscow-backed separatists in eastern Ukraine that has so far caused some 13,000 deaths.
Read More: Times of Israel