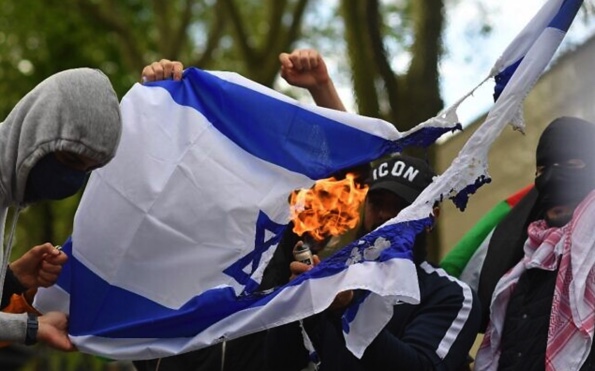 In The News
UK Jews record 2,255 antisemitic incidents in 2021 — the highest tally in Europe
British Jews and authorities recorded 2,255 antisemitic incidents in the United Kingdom in 2021 — the highest total in recent years anywhere in Europe.
It is also the highest total ever reported in a single calendar year by the Community Security Trust, British Jewry's antisemitism watchdog.
The CST report published Wednesday found an increase of antisemitic incidents of 34%, up from 1,684 incidents recorded in 2020. The 2021 tally is 24% higher than the previous record of 1,813 incidents reported in 2019.
The United Kingdom has a Jewish population of 292,000. In France, with a Jewish population of 446,000, the main watchdog group recorded 589 hate crimes against Jews in 2021.
Of the 2021 tally in the UK, 871 incidents happened in May and June, around the time of the most recent conflict between Israel and the Hamas terror group.
"It is no exaggeration to say that the landscape of UK-based antisemitism in 2021 is largely defined by responses to conflict in Israel and Palestine, as indeed is the unprecedented annual figure," CST wrote in the report.
Assaults accounted for 176, or nearly 8% of the tally, including three incidents that involved "extreme violence," CST said.
Read More: Times of Israel