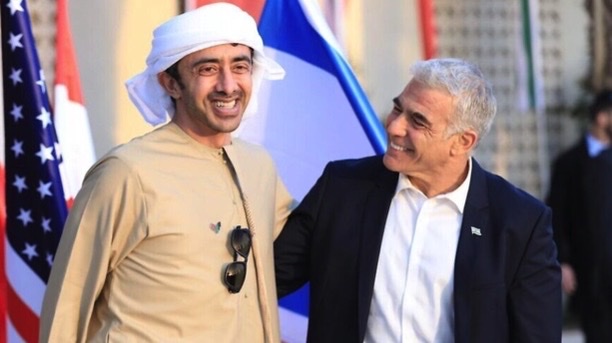 In The News
UAE foreign minister to meet Lapid in Jerusalem
United Arab Emirates Foreign Minister Sheikh Abdullah bin Zayed Al Nahyan landed in Israel on Wednesday for a visit marking the two-year anniversary of the Abraham Accords, the agreements that normalized relations between the Jewish state and numerous Arab countries.
Bin Zayed is slated to meet with Israeli Prime Minister Yair Lapid on Thursday at 3:35 p.m. local time at Lapid's office in Jerusalem. The two will have a private discussion before holding an expanded meeting that will reportedly focus primarily on enhancing bilateral ties, as well as on Iran's nuclear program.
Lapid and Al Nayhan are then scheduled to give televised statements at 4:15 p.m.
Israeli media reported that Bin Zayed will attend a reception in the evening hosted by Abu Dahbi's ambassador to Israel, Mohamed Al Khajah, which President Isaac Herzog is expected to attend.
Read More: JNS