US-Israel Relationship
U.S. says it may pull out of U.N. human rights body, citing member abuses, treatment of Israel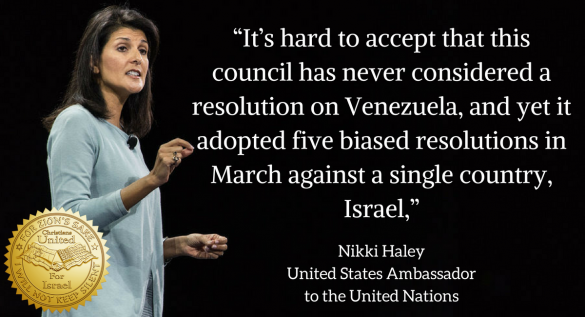 The Trump administration warned Tuesday that the United States could pull out of the U.N. Human Rights Council unless the body ends what Washington calls the whitewashing of dictators' abuses and unfair attacks on Israel.
President Trump's U.N. ambassador, Nikki Haley, delivered the ultimatum in an unusual address in Geneva to the 47-member body.
"The United States is looking very carefully at this council and our participation in it. We see some areas for significant strengthening," Haley told council members.
"Being a member of this council is a privilege, and no country who is a human rights violator should be allowed a seat at the table."
The United States accuses the council of shielding the repressive regimes it should be condemning, allowing such regimes to join the body and then use it to thwart scrutiny. It is the same criticism that led former president George W. Bush to shun the council in 2006, a decision that Barack Obama reversed in his first year in office.
Haley pointed to what she said are egregious human rights violations in Venezuela, a council member, and said if the country cannot reform it should step down from the rights council.
Haley outlined proposals for reform in a separate address later Tuesday, delivered away from the council headquarters. She again accused Venezuela of masking starvation and repression at home with membership in the human rights body and added others to the list of those she said misuse positions on the council.
"Countries like Venezuela, Cuba, China, Burundi and Saudi Arabia occupy positions that obligate them to, in the words of the resolution that created the Human Rights Council, 'uphold the highest standards' of human rights," Haley said in remarks at the Graduate Institute Geneva.
"They clearly do not uphold those highest standards."
She did not mention U.S. ally Egypt, a council member accused of arbitrary detention, torture and other abuses.
"When the council fails to act properly — when it fails to act at all — it undermines its own credibility and the cause of human rights," Haley said.
"It leaves the most vulnerable to suffer and die. It fuels the cynical belief that countries cannot put aside self-interest and cooperate on behalf of human dignity. It reinforces our growing suspicion that the Human Rights Council is not a good investment of our time, money and national prestige."
Read More: Washington Post