Palestinian Authority
U.S. funding for Palestinian security services ends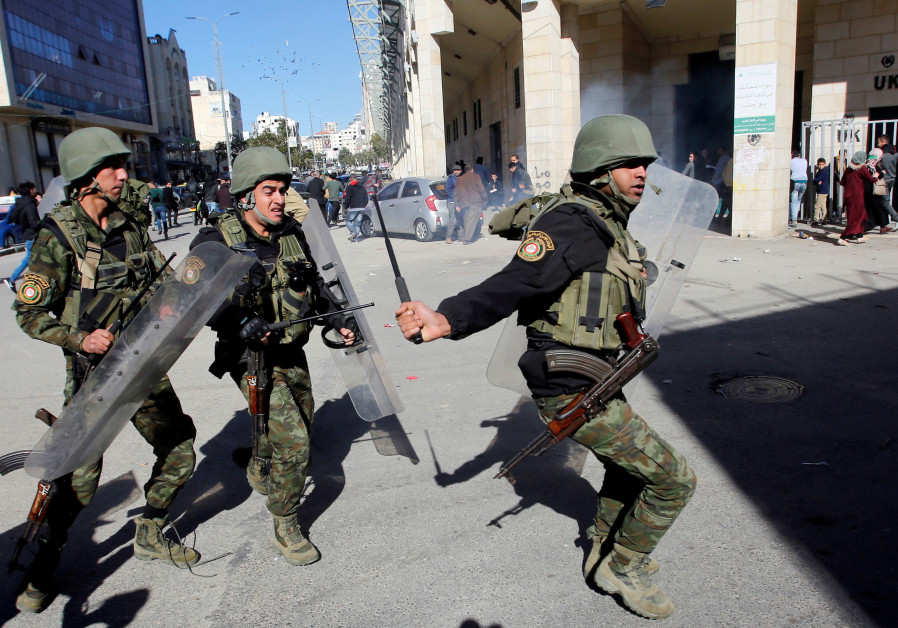 The US funding and training program for the PA's security services ended Thursday at midnight, as diplomats and politicians scrambled to find a way to mitigate the impact on West Bank stability.
The 14-year-old US Security Coordinator (USSC) mission, and the $61 million the US provides annually, is perceived to be the cornerstone to an effective Palestinian Authority security service.
Coordinated PA and IDF security activity, which has withstood diplomatic crisis and terrorism waves, is touted as a stabilizing factor in the often volatile West Bank.
It is feared that the loss of the program could harm both that coordination and the effectiveness of the Palestinian security forces in general.
A US official clarified that the US training program had stopped, but that "the US Security Coordinator and his team continue to conduct a security cooperation-only mission." 
That mission, whose office is located in Jerusalem, would  not involve funding support to the PA, but would help with IDF-PA coordination and provide an advisory role.
A PA official said Thursday that security coordination between the Palestinians and Israel will not be immediately affected by the ending of the US aid, including its security services in the West Bank.
"I don't believe this will impact the security coordination in the short term," the official told The Jerusalem Post. "But who knows what will happen in the coming weeks and months."
The Trump administration has withdrawn most of its financial assistance to the PA, but always intended to continue financing its security services.
The Anti-Terrorism Clarification Act, however, has made such an option impossible.
The legislation, which passed unanimously by the House and Senate last year, came into force on Friday, leaving the PA open to terror related lawsuits in the US courts, if it accepts American financial assistance.
The PA has said it will forgo receiving US financial aid, including the $61m. Washington provides in security assistance to the Palestinians.
PLO secretary-general Saeb Erekat told journalists in Ramallah that PA Prime Minister Rami Hamdallah recently sent a letter to US Secretary of State Mike Pompeo asking him to halt US funds to the Palestinians because of the anti-terrorism law, Erekat explained.
Read More: Jerusalem Post