Hamas
U.S. Banks Embroiled in Lawsuit Over Funding of Hamas Terrorists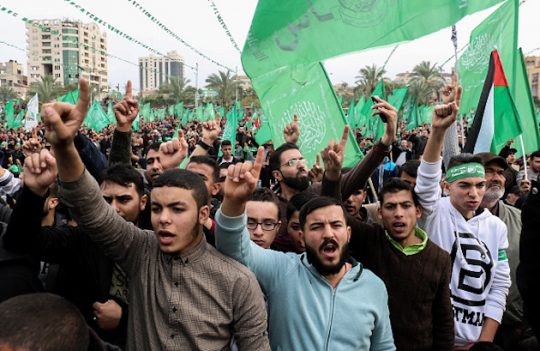 Victims of the Palestinian Hamas terror group are suing a prominent Turkish-controlled bank with business ties in the United States over the financial institution's backing of the terror group and its violent attacks.
The estate of Eitam Henkin, a U.S. national who was killed in a Hamas terror attack in 2015, alleges in a suit filed Monday in a U.S. court that Turkey's Kuveyt Bank, knowingly provided "substantial assistance via financial services" to Hamas from at least 2012 to 2015.
While Turkey's ties to Hamas have long been a flashpoint in its diplomatic relations with the United States, the suit could unearth new ties between the Middle Eastern bank and Hamas. The suit could also deter U.S. banks from working in the Turkish banking system for fear of incurring risk.
Kuveyt Bank carries out U.S. dollar-denominated transfers via several American financial organizations, including Citibank, HSBC Bank USA, Standard Chartered Bank, and the Bank of New York Mellon, according to financial records offered to the court as part of the case.
During the time Kuveyt was dealing with U.S. banks, it also was providing funding to Hamas with the knowledge of Turkish officials, according to the suit.
"Kuveyt Bank aided and abetted Hamas knowing its own role in facilitating funds transfers through the international and U.S. financial systems on Hamas's behalf and fully aware of Hamas's violent activities," the suit alleges. "Kuveyt knowingly maintained bank accounts for, and provided financial services to Hamas operatives, institutions, and fundraisers fully understanding its role in Hamas's illicit and violent activities."
The bank maintained Hamas-affiliated bank accounts and is accused of transferring funds through its corresponding accounts in the United States.
The bank "understood the value and importance to Hamas of the bank's role in facilitating large transfers of funds, including U.S. dollars, from donors and coconspirators in Turkey and making those funds available to Hamas," the suit alleges.
"This bank has four correspondent banks in the U.S.," said Jonathan Schanzer, a former terrorism finance analyst at the Treasury Department. "If the plaintiff can prove the bank helped Hamas engage in financial activities, it doesn't matter whether dollars were involved."
"And because one of the victims was American, the question of legal standing in the U.S. is much easier to argue," said Schanzer, who is currently senior vice president for research at the Foundation for Defense of Democracies, a U.S. think-tank.
Additional information provided in the lawsuit claims that Kuveyt "maintained at least one bank account and provided financial services to senior Hamas operative Jihad Yaghmour, the organization's liaison with the Turkish authorities."
Yaghmour was one of 11 Palestinian prisoners freed in 2011 as part of a swap with Israel. He had been serving a 30-year prison sentence for the abduction and murder of an Israeli soldier.
Turkey's ties to Hamas are well established.
Turkish president Recep Tayyip Erdogan has held public and private meetings with senior Hamas officials and has provided the group with both financial and political cover.
Turkey also permits Hamas's Qassam Brigades to operate from an office located in Istanbul. This operational hub has been identified as planning terror attacks and moving funds to Hamas leaders in the Gaza Strip.
The Henkin family is seeking a jury trial and an undisclosed amount of financial relief as a result of the bank's alleged role in facilitating the Hamas attack.
The 2015 attack on the Henkin family sent shockwaves through Israel and the United States.
Eitam Henkin, his wife Naama, and their four children were driving near Israel's West Bank when another car containing three Hamas operatives cut off their path.
Several gunmen fired on the Henkin's vehicle with an automatic rifle, wounding Eitam, who struggled to fend off the Hamas attackers. Eitam was subsequently killed by one of the Hamas terrorists and his wife was shot and killed at point-blank range. The Henkin's children—ages 9,7, 4, and 10 months at the time of the attack—witnessed the gruesome scene.
FDD's Schanzer, one of the leading experts on jihadi groups in the Middle East, said the lawsuit "draws a direct line between the Erdogan government and Hamas, but more importantly alleges ties between the terrorist group and a bank that operates here in the United States."
"The U.S. angle is clear and the implications are significant," Schanzer said. "Hamas is extremely active in Turkey. From public relations to fundraising to operational terrorist planning, Turkey has served for years as Hamas's largest external patron outside of Gaza."
Read more: The Washington Free Bacon