Israeli Society
Two terror attacks, two widows, a shared pain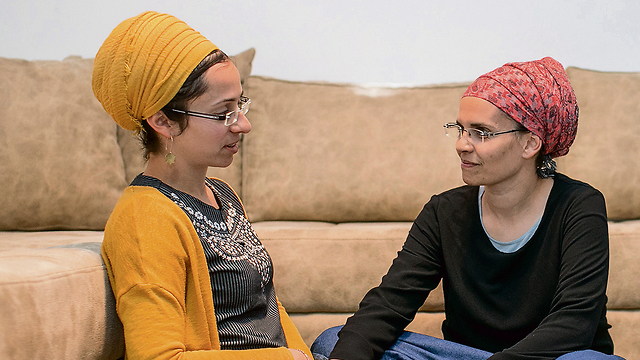 Miriam Ben Gal, 27, who lost her husband Itamar in a terror attack in Ariel, and Yael Shevah, 32, who lost her husband Raziel about a month ago in a terror attack in the Havat Gilad outpost, feel like brides too. The brides of mourning, remembering their wedding day together.
"When was the last time my parents held me from each side and led me, like in a funeral? Only in the chuppah (canopy under which Jews marry—ed)," Miriam asks and replies.
"That's exactly what my father told me during the funeral," Yael nods. "The entire way to the cemetery, my father kept saying, 'Remember the last time you took me this way?' It's traumatic. You walk and your husband is in front of you, wrapped in a prayer shawl, the same prayer shawl from the wedding, and the entire audience marches behind you, just like in a wedding."
"A funeral really is a life-altering event, just as much as a wedding," Miriam says.
"A funeral is like a rebirth," says Yael. "After the wedding, you embark on a new life. The same happens after death. Life changes and we have to be reborn, to upgrade ourselves."
To get used to a new, delusional reality," Miriam completes the sentence, and they smile at each other.
Last Tuesday, they met for a painful embrace over Itamar's new grave. The next evening, they meet again. This time, they sit down for an in-depth conversation at the Ben Gal family home, in the community of Har Brakha. It's the first day of the shiva (the week-long period of mourning) over Itamar and the final day of the 30 days of mourning over Raziel.
Before the loss that brought them together, they had only a nodding acquaintance. Barel, Raziel's brother, a Har Brakha resident, was Itamar's good friend. Emunah, Miriam's sister, is a good friend of Yael.
"I didn't know Yael very well," says Miriam, "but as soon as I heard about Raziel's terror attack, I got emotionally involved. I kept thinking about all the tiny consequences of not having a partner in life. I was extremely touched by the story. I came with Itamar to offer our condolences to the Shevah family at Havat Gilad. He came to console his friend, Barel. I really wanted to hug Yael, but I didn't feel close enough."
"Now you're close," Yael says. "I walk around all day feeling I don't want us to be apart."
They have chosen to turn their tragedy into a mission, to search for a meaning for the pain, and to grow from it rather than sink into it. Yael has been leading, together with the Samaria council head, the campaign to legalize Havat Gilad.
"There's a reason why people say, 'Bebinyan haaretz nenuham' (building the land will comfort us). The legalization doesn't ease my private grief, but it gives it some meaning and it provides comfort on the national level," she says.

Read More: Y Net