Jerusalem
Trump to deliver video address at Jerusalem embassy opening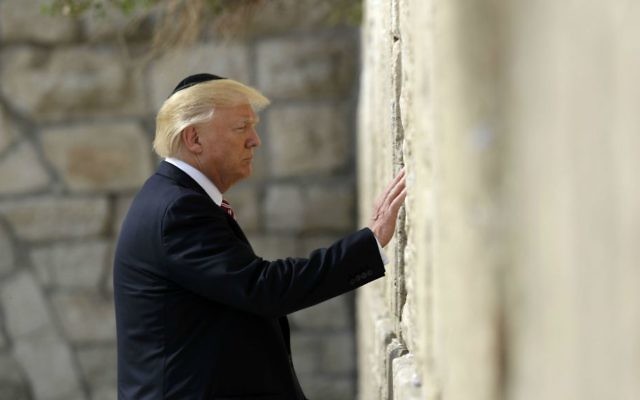 WASHINGTON —  US President Donald Trump will deliver a video address for the opening of the new US embassy in Jerusalem next week, a senior administration official told reporters Friday morning.
Over the last several weeks, Trump had been toying with flying to Israel for the second time in his presidency to attend the ribbon-cutting ceremony, much to the surprise of Israeli officials who were unprepared for a potential presidential visit.
But last week, the White House released its official delegation list, which did not include the president. Among the administration members attending are Treasury Secretary Steven Mnuchin, US Ambassador to Israel David Friedman, US Special Envoy Jason Greenblatt, Trump's senior adviser and son-in-law Jared Kushner and daughter Ivanka Trump.
US Vice President Mike Pence will also address an event hosted at the Embassy of Israel to the United States in Washington DC on the same day to commemorate the 70th anniversary of Israel's founding.
A senior administration official asserted Friday morning that relocating the US embassy from Tel Aviv to Jerusalem advances America's interests and was not part of any "give and take" with Israel.
"It was an American interest to open the embassy," the official said. "The Israelis were obviously desirous of this and they requested this — they're very happy by it — but the decision was made because it seemed to be in the best interests of the United States [and] it was something the president promised during the campaign. There was no give and take with Israel in regards to this decision."
When asked by the The Times of Israel how the embassy relocation served US interests, the official said the move would rebalance leverage in Israeli-Palestinian peace negotiations, making the conditions more conducive to progress.
"One of the things we thought was important in terms of the conflict was to look at the various leverage points and see how we could adjust those for creating a better dynamic for peace," the official said. "What the president thought was that the Palestinians essentially had a veto over the recognition of Jerusalem as the capital of Israel — meaning that if you say, 'We're only going to recognize Jerusalem as the capital if the Palestinians say it's okay,' you're empowering the leverage in a way that's not helpful. That was misplayed over many years."
Read More: Times of Israel